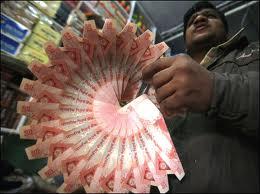 Recovery in the US economy and continuing rupee depreciation is leading to a spurt in absorption of office spaces, especially with regard to information technology and IT-enabled services.

Both Bengaluru and the National Capital Region, the main property markets for IT/ITeS, have had a manifold jump in such absorption in the June quarter.

This comes as aggregate net absorption in the Asia-Pacific has declined 26 per cent on a yearly basis and was around 20 per cent below the three-year quarterly average.

China and India accounted for nearly 80 per cent of the total take-up in the Asia-Pacific. In Bengaluru, the net absorption went up four times to two million sq ft in the June quarter, as against 580,000 sq ft in the March quarter.

Overall vacancies went up to 6.8 per cent from 6.3 per cent earlier, according to Jones Lang LaSalle, a global property consultant.

Ocwen Financial Corporation, Matteos, Alstom, Disney, TRS Rentele Co, Amazon, Infotech Enterprises, STS Technologies, Xerox Innovation, AIG and Repucom were the main companies which leased spaces in Bengaluru last quarter.

The NCR saw a 140 per cent jump in office absorption to 1.7 mn sq ft in the second quarter of calender year 2013 on a quarterly basis.

This absorption was the highest in the past four quarters.

The absorption levels went up mainly due to good take-up in Gurgaon and Noida. Net absorption in Gurgaon rose 105 per cent quarter on quarter, due to robust leasing activity.

In Noida, healthy leasing in existing stock and pre-commitments in new completions contributed to take-up, reaching a 20-quarter
high, JLL said.
However, sluggish leasing in business districts and arrival of new supply led to a rise in vacancy levels by 260 points to 27 per cent.
The main leasing deals include Convergys leasing 227,317 sq ft in Park View Business Tower and Dupont leasing 123,000 sq ft in DLF Building 5C in Gurgaon.
In Noida, Samsung Engineering leased 350,000 sq ft in Technology Zone Towers A and B.
Mumbai saw net absorption increasing by 20 per cent q-o-q to two million sq ft in the June quarter.
The rush of capital out of the country led to the rupee breaching 63 to a dollar on Monday.
This, coupled with signs of recovery in the US economy, the largest outsourcing market, is helping IT companies directly, consultants said.
Rupee depreciation is helping IT companies in two ways.
While it is raising the value of their exports, it is helping foreign firms to save on rents.
Anuj Puri, chairman & country head, Jones Lang LaSalle India, said: "The rupee's depreciation can prove a blessing in disguise for the IT services industry, since it makes India a more interesting IT/ITeS proposition for foreign markets."
Ashok Kumar, managing director of Cresa Partners, a commercial realty services firm, said they've seen an increase in enquiries for IT special economic zones.
"The rupee depreciation is straightaway giving tenants 15-20 per cent savings in rents. Many are looking to cash on this opportunity," he said.