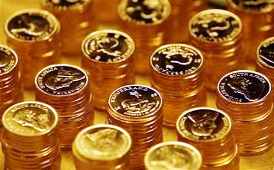 Continuing its rising streak for the fifth straight day, gold prices rallied to four-month high by rising Rs 565 to Rs 29,825 per ten grams in the national capital on Tuesday on rising demand for the festive season amid a firm global trend.

The current upsurge in gold prices placed the metal to a level last seen on April 10.

Silver also spurted by Rs 1,845 to Rs 45,965 per kg on brisk buying by jewellers and coin makers.

Traders said increased buying by stockists and jewellers to meet the rising festive season demand amid a firm global trend mainly led an upsurge in gold and silver prices.

Gold in New York, which normally set price trend on the domestic front, climbed $22.60 to $1,337.30 an ounce and silver by 4.23 per cent to $21.43
an ounce.
They said fall in gold and silver imports on account of various steps taken by the government created paucity of stocks and partly pushed up the metal.
On the domestic front, gold of 99.9 and 99.5 per cent purity climbed by Rs 565 each to Rs 29,825 and Rs 29,625 per ten grams, respectively.
It had gained Rs 920 in the precious four sessions.
Sovereign flared up by Rs 300 to Rs 24,500 per piece of eight gram.
Silver ready recorded a significant gains of Rs 1,845 to Rs 45,965 per kg and weekly-based delivery by Rs 1,945 to Rs 45,965 per kg.
The white metal had gained Rs 2,710 in last four trading sessions.
Silver coins also spurted by Rs 2,000 to Rs 84,000 for buying and Rs 85,000 for selling of 100 pieces.