Gold imports declined 11.8 per cent to $50 billion (around Rs 2.7 lakh crore) in the April-February period of 2012-13 due to measures taken to curb the demand of the precious metal, government said on Friday.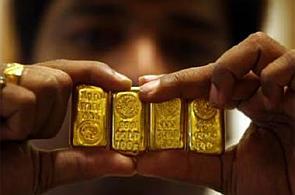 Gold imports in value terms stood at $56 billion for 2011-12, $40 billion in 2010-11 and $28 billion in 2009-10, Minister of State for Finance Namo Narain Meena said in a written reply to the Lok Sabha.

"Gold imports at $50,637 million and 951,170 kg in 2012-13 (April-February) were lower by 11.8 per cent and 1.6 per cent (in volume terms) over corresponding previous period," Meena said.

Government has taken a host of steps to curb the demand of precious metal and has hiked import duty to 6 per cent from 4 per cent earlier.

Besides, in order to channelise household savings to financial instruments, the government proposed to introduce inflation indexed bonds to protect savings from inflation.

Gold is the second major import item for India after petroleum and constituted 11.3 per cent of total imports in 2011-12
in value terms.
Meena said gold imports account for nearly 26 per cent of India's trade deficit during April-February.
"The rise in imports of gold is one of the factors contributing to India's high trade deficit and current account Deficit (CAD) in 2011-12, forming 30 per cent of its trade deficit," he added.
Rising gold and oil imports have pushed up the CAD to a record high of 6.7 per cent in the October-December quarter.
The Minister further said the recent decline in gold prices "may lead to a fall in the value of gold imports for investment purposes".
Gold prices fell to a 21-month low of Rs 26,440 per ten grams in the domestic markets on April 16 due to continued sell off in the global markets. Gold prices closed at around Rs 28,000 per 10 grams in the national capital today.
Gold prices had touched the all-time high of Rs 32,975 per 10 grams on November 27, 2012.