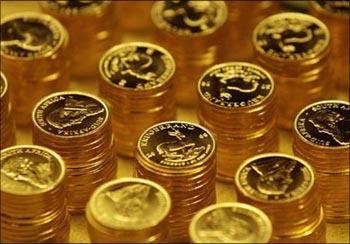 Gold prices dropped at the bullion market on Thursday on selling by stockists and traders following mute demand due to prevailing high prices and lower global cues.
Silver also witnessed speculative selling and lost modestly amid reduced industrial off-take. Standard gold of 99.5 per cent purity slipped Rs 190 per 10 gms to close at Rs 30,610 from Wednesday's level of Rs 30,800.
Pure gold of 99.9 per cent purity fell by Rs 180 per 10 gms to end at Rs 30,755 from Rs 30,935. Silver ready (.999 fineness) went down by Rs 70 to conclude at Rs 59,340 per kg as compared to Rs 59,665 on Wednesday.
"Demand is dismal despite marriage season so traders are resorting to selling," dealers said. In the overseas markets, gold fell on continued investor caution after US policymakers postponed debt ceiling talks.
In Europe, spot gold bid lower at $ 1,677.99 an ounce in early trade, while spot silver was bid down at US 31.87 an ounce.