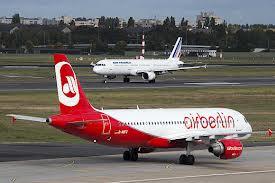 Airberlin, Germany's second largest airline, is expanding its codeshare agreement with Etihad Airways to include six Indian destinations.

Airberlin passengers will be able to book flights to New Delhi, Mumbai, Cochin, Chennai, Hyderabad and Bengaluru with Etihad Airways, UAE's national carrier, the companies said in a joint statement.

Travellers in India will also benefit from improved airberlin route network to destinations across Europe, such as Copenhagen, Krakow, Stockholm and Warsaw, it said.

Germany's airline will introduce a second daily flight between Berlin and Abu Dhabi starting October 26 this year, building on its successful partnership with equity and codeshare partner Etihad Airways, the statement said.

Under the codeshare agreement, two or more airlines share the same flight to provide passengers with a wider choice of destinations.

Airberlin has been operating its Berlin-Abu Dhabi route since January 2012
and it is the only direct flight between the German capital and the United Arab Emirates.
As a result of the increased frequency, airberlin and Etihad Airways will operate a total of 56 flights per week between Germany and the UAE, including double-daily connections from Berlin, Dusseldorf, Frankfurt and Munich.
The schedule has been optimised to provide maximum connectivity to the Etihad Airways network, increasing two-way connectivity from 19 to 43 destinations with Etihad Airways via Abu Dhabi to the Gulf Arabian region, as well as North Asia (Beijing, Shanghai, Tokyo Narita), South East Asia (Kuala Lumpur, Jakarta), Australia (Sydney, Melbourne, Brisbane), and six destinations in India.
"Thanks to the constant expansion of our partnership with Etihad Airways, we are taking greater advantage of our synergies and can offer our guests even more travel possibilities and convenience," Wolfgang Prock-Schauer, Chief Executive Officer of airberlin, said.