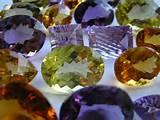 Gems and jewellery exports declined 16.5 per cent year-on-year to $2.7 billion in May due to a weak demand from western markets, an industry body said on Monday.

In May 2012, these exports stood at $3.24 billion, according to the data by the Gems and Jewellery Export Promotion Council.

The gems and jewellery exports in May were also lower compared to the previous month when the exports were at $ 3.38 billion, a robust 33 per cent growth over the year ago period.

"The exporters are
getting less number of orders from western markets, including Europe," a GJEPC official said.
The US, the United Arab Emirates, Europe and Hong Kong are among the major export destinations for gems and jewellery items.
Shipments of gold medallions and coins nosedived by 95.7 per cent while that of gold jewellery by 61.4 per cent.
During 2012-13, the gems and jewellery exports declined by 9.4 per cent year-on-year to $39 billion due to sluggish demand in traditional markets.
However, the council feels that in 2013-14 these exports would grow between 10 per cent and 15 per cent compared to the last fiscal.