Adani Group on Monday said its Chairman Gautam Adani has pulled out of Wharton India Economic Forum, a development that comes close on the heels of the cancellation of Gujarat Chief Minister Narendra Modi's keynote address at the annual event to be held in Philadelphia, US.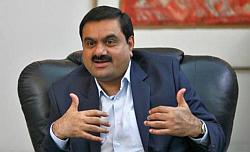 The Gujarat-based firm, however, said Adani had taken himself out of the event almost a fortnight back in an apparent reference that his absence is not related to the cancellation of Modi's address.

"Adani has conveyed his inability to join Wharton India Economic Forum long back (almost a fortnight ago) as he has other pressing commitments," an Adani Group spokesperson said.

The Wharton India Economic Forum is an annual student-run India-centric conference hosted by the WhartonSchool of the University of Pennsylvania.

Modi was earlier invited to deliver the keynote address at the Forum to be held on March 22-23 via video-conference.

On
Sunday, the school cancelled Modi's keynote address following uproar from a section of university professors and students on the invitation.
The Forum aims to bring together business and political leaders, professionals, academics and students from across the world to discuss India's evolution into a global economic power
Image
: Adani Group chairmain Gautam Adani