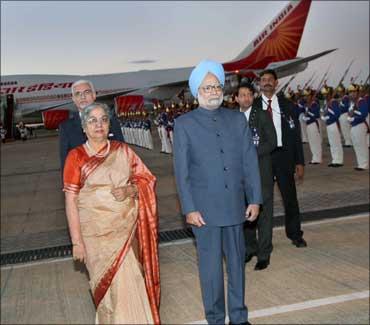 Reaffirming the central role of the Group of 20 member nations in combatting and neutralising the impact of the global fiscal crisis, leaders of Brazil, Russia, India and China (BRIC) on Thursday said the grouping is the right forum for resolving the crisis.
A joint statement issued by the BRIC leader said: "We stress the central role played by the G-20 in combating the crisis through unprecedented levels of coordinated action. We welcome the fact that the G-20 was confirmed as the premier forum for international economic coordination and cooperation of all its member states."
"Compared to previous arrangements, the G-20 is broader, more inclusive, diverse, representative and effective. We call upon all its member states to undertake further efforts to implement jointly the decisions adopted at the three G-20 Summits. We advocate the need for the G-20 to be proactive and formulate a coherent strategy for the post-crisis period. We stand ready to make a joint contribution to this effort," the BRIC leaders added.
Expressing their strong commitment to multilateral diplomacy with the United Nations playing the central role in dealing with global challenges and threats, they said they reaffirmed "the need for a comprehensive reform of the UN, with a view to making it more effective, efficient and representative, so that it can deal with today's global challenges more effectively."
"We reiterate the importance we attach to the status of India and Brazil in international affairs, and understand and support their aspirations to play a greater role in the United Nations. We believe the deepened and broadened dialogue and cooperation of the BRIC countries is conducive not only to serving common interests of emerging market economies and developing countries, but also to building a harmonious world of lasting peace and common prosperity," the joint statement quoted the BRIC leaders, as saying.
Expressing their satisfaction over the improving world economic situation since their first meeting in June 2009, in Ekaterinburg, the BRIC leaders said: "We welcome the resumption of economic growth, in which emerging market economies are playing a very important role. However, we recognize that the foundation of world economic recovery is not yet solid, with uncertainties remaining. We call upon all states to strengthen macroeconomic cooperation, jointly secure world economic recovery and achieve a strong, sustainable and balanced growth."
"We reiterate our determination to make positive efforts in maintaining domestic economic recovery and promoting development in our own countries and worldwide," the BRIC leaders added.
They also underlined the importance of maintaining relative stability of major reserve currencies and sustainability of fiscal policies in order to achieve a strong, long-term balanced economic growth.
"We are convinced that emerging market economies and developing countries have the potential to play an even larger and active role as engines of economic growth and prosperity, while at the same time commit to work together with other countries towards reducing imbalances in global economic development and fostering social inclusion," they said.
Image: Prime Minister Manmohan Singh, along with his wife Gursharan Kaur, at the Brazilian Air Force Base. Photograph: Jay Mandal/On Assignment