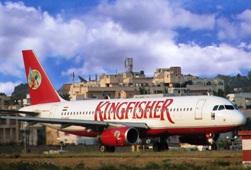 Kingfisher Airlines, which has declared a partial lockout till Thursday, would have to seek aviation regulator DGCA's nod before resuming operations, Civil Aviation Minister Ajit Singh said on Wednesday.

Directorate General of Civil Aviation has asked the crisis-ridden airline to submit a report on airworthiness of its aircraft before resuming operations, he told reporters in New Delhi.

The minister's response came a day after the airline chief executive officer Sanjay Agarwal and executive vice president Hitesh Patel met DGCA chief Arun Mishra, briefing him on the company's decision to suspend the entire operations till October 4.

"We are hopeful that we will resolve the situation in the next few days. We will take a call on October four on resumption of our operations," Agarwal had told PTI on Wednesday.

The airline would be using its current fleet of ten aircraft -- seven Airbus A-320s and three turbo-prop ATRs, to resume flights.

With these planes, Kingfisher has been operating about 70-80 flights each day till it declared a partial lockout late Monday night following a strike by engineers and pilots for non-payment of salary.

Maintaining that Vijay Mallya-owned carrier was facing serious financial crunch, the minister said DGCA would have to be satisfied on all aspects of operational safety till it approved resumption of its flights.

Based on the inputs received from the airline and its own findings, the aviation regulator is likely to submit an interim report on the airline's safety parameters to the ministry very soon and a final report would follow in the next few days.

"We will only then take a decision on the airline's operations," the minister said, adding that he had "no idea" on the implications of the safety issues on Kingfisher's flying licence as of now.

The airline had declared a partial lockout after its engineers and pilots struck work on Friday to protest non-payment of salaries
since March.
After the airline CEO told DGCA that the March salaries, which have already been paid to about half the employees, would be given to the remaining staff in the next few days, a representative of the protesters said, "The management has made such promises earlier too but not fulfilled them.
"So, we have to wait and watch.
"Over 80 pilots and 270 Kingfisher engineers have been on intermittent strikes over the past few months, primarily over delay in payment of salaries.
Asked about their efforts to woo foreign airlines and investors to invest in Kingfisher, Agarwal had said, "The policy has just been changed.
"We are re-engaging with (foreign) airlines and non-airline investors with whom we had been speaking earlier.
"There is still very serious interest in Kingfisher."
According to him, he had informed DGCA that "it will still take 3-4 months to get the money into the airline, given the complexity of transactions. But we are confident that this will materialise soon."
The Kingfisher CEO had said, "Our promoters and the UB Group have put in Rs 1,150 crore (Rs 11.5 billion) over the past five months.
. . .Everyone wants the airline to run."
About the airline's talks on de-freezing of bank accounts by the Central Board of Direct Taxes and Central Board of Excise and Customs, Agarwal had said, "We are hopeful that the issues will be resolved in the next few days.
"It is no one's case, including the banks', to see the airline shutting down. Our talks are progressing well."
About Rs 60 crore (Rs 600 million) were stuck in these accounts, which would go a long way to clear salary and other dues, he had indicated.
Kingfisher has been saddled with a huge loss of Rs 8,000 crore (Rs 80 billion) and a debt burden of another over Rs 7,000 crore (Rs 70 billion) which it has not serviced since January.
Several of its aircraft have been either taken away by its lessors or grounded by the Airports Authority of India for non-payment of dues during the past few months.