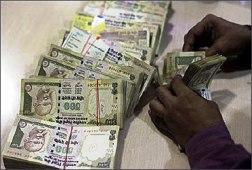 Private placement of listed debt securities seem to be gaining traction among Indian companies for raising funds, with the total amount raised through this route crossing Rs 2 trillion mark since the beginning of the current fiscal.

The Indian companies have raised a total of Rs 2,11,308 crore (Rs 2,113.08 billion) till October 31 in the current financial year 2012-13 -- marking a sharp increase of 56 per cent from the year-ago period, as per the data compiled by Securities and Exchange Board of India.

In private placements of debt, companies issue debt securities or bonds to institutional investors to raise capital.

In the April-October period of the previous fiscal, the total amount raised through this route stood at Rs 1,35,590 crore (Rs 1,355.9 billion).

The number of such placements has also grown to 1,288 from 976 in the previous fiscal.

Market experts believe that domestic bond market saw greater
demand for funds compared to a year ago because of little borrowing done through international routes.
"Many Indian companies are turning to the bond market to raise funds because overseas money through foreign currency convertible bonds and external commercial borrowing route is not available.
Besides, many firms default on their FCCB so private placement of debt is the only viable option," CNI Research CMD Kishor Ostwal said.
The situation seemed to have improved in the current fiscal, with an increase in the number of debt issues in comparison to year-ago period likely because companies were finding it difficult to raise funds from other routes.
In the entire fiscal 2011-12, companies had raised a total of Rs 2,61,282 crore (Rs 2,612.82 billion) through debt on a private placement through 1,953 issues.
Most of the funds raised in the current fiscal were mainly in the month of July, when companies had raised Rs 57,745 crore (Rs 577.45 billion) followed by August (Rs 34,892 crore or Rs 348.92 billion).