Around 47 per cent of Indian employees are satisfied with their management's leadership style, according to the Kelly Global Workforce Index survey.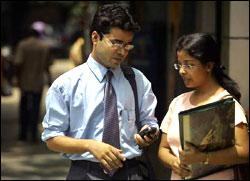 According to the survey titled 'Leadership Disconnect', India tops Asia Pacific region with 47 per cent followed by Thailand at 42 per cent in leadership style satisfaction.
"Leadership style is about elements like vision, performance, motivation, and insight, as well as technical ability manifesting itself together," Kelly Services India managing director Kamal Karanth said.
"For an organisation to reduce the gap between priority and results, it is important to ensure that there is a shared vision of organisational goals and direction, from top to bottom," the report said.
The study further said amongst the main workplace generations, Gen Y (age 19-30) are more satisfied with their management's leadership style compared with Gen X (age 31-48) and Baby Boomers (age 49–66).
The study brings together the findings from almost 170,000 respondents from 30 countries and examines the issue of leadership in the contemporary workplace from the employee perspective.
Regionwise, most favorable assessment comes from workers in the Americas, where 45 per cent say they are satisfied with their current management's leadership style. This is significantly higher than the average across all regions, with only 34 per cent of workers reporting they are satisfied in EMEA and 39 per cent voicing their satisfaction in APAC.
The paper differentiates leadership styles between democratic, authoritative, visionary, empowering, empathetic, humble servitude and moral/ethical.
According to the study, 65 per cent of Indians and 58 per cent of Malaysian workers give their management top marks for inspiring leadership. Moreover, 60 per cent of Indians are content to speak positively to others about their employers.
Photograph: Jayanta Shaw/Reuters