Ending the fierce battle for control over Singapore-based hospital chain Parkway Holdings, Malaysia's Khazanah on Monday offered to fully acquire it at an increased price of about $2.5 billion after Indian rival Fortis Healthcare withdrew from the race.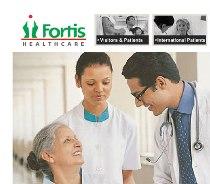 On a day when Khazanah's earlier $835 million partial offer for 51.5 per cent in Parkway was to close, its arm Integrated Healthcare Holdings said it is converting it into a full general offer.
"IHHL is offering to acquire all shares in Parkway that it does not already own at a price of SGD 3.95 per share in cash. The voluntary offer represents a 4.5 per cent increase to the partial offer," it said.
The development comes after Fortis Healthcare, which has the management control of Parkway with 25.37 per cent stake, agreed to make an exit.
"Fortis Global Healthcare (Mauritius) Ltd, a wholly-owned subsidiary of Fortis Healthcare, has provided an irrevocable undertaking to IHHL to accept the voluntary general offer for all its shares," the filing added.
"At the offer price of SGD3.95 per share, the value of other shares in the issue (including Fortis' stake) as of July 26 is approximately SGD 3.5 billion (around $2.5 billion)," it said, adding the offer will now close on August 16.
IHHL, which owns 23.32 per cent stake in Parkway, had made a partial offer at SGD 3.78 per share in May and Fortis Healthcare had countered it with a $2.3-billion full offer at SGD 3.8 per share.
Stressing that he was never interested in a bidding war, Fortis Healthcare Chairman Malvinder Singh said: "At SGD 3.8 per share, it was already stretched out. We think at some point of time it was not economically viable...We have taken into account what is best for every shareholder of Fortis."
Describing the development a win-win situation for both the parties, he said: "While we believe that Parkway is a very good asset but every asset has certain intrinsic value that led us to believe that we should divest our stake in Parkway."
He said Fortis will be receiving the money from Khazanah in a month's time. The Singh family-owned Fortis had picked up 23.9 per cent stake in Parkway for about $685.3 million (nearly Rs 3,100 crore) when it bought TPG Capital's shares in March this year.
Parkway Holdings is counted as Asia's premium healthcare provider, with a network of 16 hospitals, having 3,400 beds, spread over six countries, including India.