At the beginning of this month, when the Fortis-Khazanah tussle over Parkway was getting intense, brothers Malvinder and Shivinder Mohan Singh, the promoters of Fortis, came to Mumbai to meet senior bankers from IDBI, Exim Bank, Bank of India, Axis and State Bank of India to explain their strategy and get the lenders' support.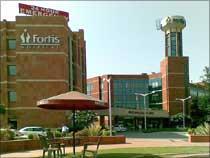 In one such meeting, a banker asked the brothers to what extent they would fight it out. "We will fight," Malvinder had said, "but we are not emotional about it. In business, decisions should be taken from the head, not from the heart."
Which is what happened. But sources in the company and in banking circles involved in the deal say the last two months have been "Like a thriller, with twists and turns almost every single day… Just like a James Bond picture".
A cross-border takeover thriller that not only saw corporate action but also diplomatic dealings and slugfests among bankers.
First offers
Rewind to May. One and a half months after Fortis acquired 24 per cent in Parkway from buyout private equity fund TPG, sources say Khazanah approached Fortis, asking to buy them out by paying a significant premium of S$4.15/share. Fortis was not keen to pay such an "exit premium", as it had picked up its stake only in March, for around S$3.56/share.
Khazanah, add these sources, then came up with a revised offer. 'Sell the Malaysian business of Parkway' they said. When the Fortis management sought an independent valuation, Khazanah became hesitant.
"In both cases, valuation was becoming a big impediment. For Khazanah, it was also politically sensitive. It's a sovereign fund of the Malaysian government, and this is an election year for them. Parkway also has assets in Malaysia and healthcare is always an emotive issue. They could not sell out at a price that would be perceived to be cheap back home," said an official.
That's when it became clear a counter offer, albeit partial, was imminent from Khazanah. It was only a matter of time. By June end, Khazanah's arm, Integrated Healthcare Holdings, indeed came back, with its offer to pick up 51.5 per cent stake for S$3.78/share.
Fortis' core team - the Singh brothers, old-time lieutenant and the newly appointed CMD of Religare Enterprises, Sunil Godhwani, Hemant Dhingra, director, Finance, Ranbaxy Holding Company - went into a huddle. They were in a bind. Fortis had to go in for a counter offer and it had to be for the full 100 per cent of Parkway.
Otherwise, it risked getting diluted significantly and its hold over the company would have also got snipped. Khazanah, with a 51 per cent majority, would have controlled the management as well as the board, along with the voting rights, and Fortis would have stayed on as a mere financial investor.
The counter offer was also necessary as otherwise Fortis would have also been left "holding on to a significant proportion of dead stock of Parkway", said company sources.
And, that could have been as high as 16.66 per cent, based on Khazanah's partial offer in case Fortis would have tendered their shares in the Parkway partial offer. "It would have been difficult for Fortis to dump those dead stocks. If they did a secondary sale, prices would have dropped."
For Fortis, the counter offer also had to be for the entire 100 per cent. Singapore law prohibits partial offers if one is a shareholder for less than six months in a company. So, on July 15, Fortis bit the bullet and came up with its offer for the residual 75 per cent stake.
"But Fortis never wanted to upset Khazanah, especially in Singapore. So, its offer was also just marginally higher than that of Khazanah's partial offer at S$3.80," said a banker involved in the deal.
High stakes
Close to 20 per cent of Parkway business comes from Malaysia. Singapore-Malaysia's blow hot, blow cold relationship also meant it was tough for the Singapore government to publicly support Fortis.
Singapore's investment arms, GIC and Temasek, also could not come on board defying their government. Fortis figured there was no point being headstrong on such a sensitive matter.
Funds were not the problem. Fortis needed anything from $800 million (for 51 per cent) to $2.4 billion (for 100 per cent). "We had to show the exchange that the money was tied up. The Singapore regulator would entertain no nonsense… Bank support is mandatory," said a company official.
Despite skepticism from many lenders, Fortis' lead debt arranger, Axis Bank, also managed to put together a consortium of Indian banks such as Canara, Bank of Baroda, PNB and Bank of India to organise a $1.7-billion facility for what was billed as the "deal of the decade". "RHC was also sitting on a billion dollars of cash, post the Daiichi deal, and that money was also available," said a banker.
But all's well that ends well. Fortis took a measured business call and decided to tender their entire stake in the hospital chain. That, too, on the last day of Khazanah's partial offer. Hectic negotiations over the weekend among Khazanah and Fortis brass made sure the agreement was win-win for all parties.
An investment banker puts it as: "Singh is king. Wait and watch for the next headline deal from them."