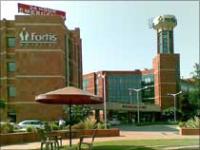 In its first acquisition in any emerging Southeast Asian market, Indian healthcare major Fortis will pick up a 65 per cent stake in Vietnam's Hoan My Medical Corporation for Rs. 289 crore ($64 million).
This will be the sixth acquisition in eight months for Singapore-headquartered Fortis Healthcare International, owned by brothers Malvinder Mohan Singh and Shivinder Mohan Singh, who also hold majority stake in India-listed Fortis Healthcare.
HMC is one of Vietnam's largest private healthcare providers, with 700 beds across five hospitals and another 200-bed tertiary care hospital scheduled to open towards of the end of the year. In 2010, the firm posted revenue of $23.8 million.
"This acquisition is an important step for Fortis Healthcare International to establish its presence in one of Asia's fastest growing regions.
"Vietnam is the 13th most populous country in the world and its 89 million citizens are aspiring for better healthcare services.
"Its fast growing economy is a tremendous opportunity for our group to consolidate and establish a high quality patient centric tertiary hospital network," Malvinder Mohan Singh, group chairman of Fortis Healthcare, said in a statement.
The acquisition has been directly funded by the Singh brothers, and is expected to be completed in the next 45 days.
All permissions from Vietnam's communist government have also been procured.
"Healthcare spending in Vietnam is expected to grow at an annual rate of 10.3 per cent till 2015. Also, about 6.5 per cent GDP (gross domestic product) is spent on healthcare, which is higher than many other Southeast Asia countries.
"Overall, looking at the economic and healthcare indicators, this is the most opportune time to get into Vietnam's healthcare sector," Vishal Bali, CEO of Fortis Healthcare International, told
Business Standard
.
The
Deustche Bank Group and venture capital firm Vina Capital, who currently hold substantial stakes in the firm, will see their holding reduce but will remain invested in HMC.
Additionally, Nguyen Huu Tung, the hospital operators' founder and promoter, is also expected to remain involved.
"We will have management control but keenly look forward to his (Tung's) participation. The PE funds will also continue to hold a very small minority," Bali said.
The move is part of Fortis International's larger strategy of creating a wider Asian presence.
The healthcare major's recent purchases in the region include that of Hong Kong's largest private primary care company, the largest dental care company in Australia, an under-construction speciality hospital in Singapore as well as a stake in an existing hospital in Sri Lanka.
Apart from these territories, Fortis International also has a presence in Dubai, Mauritius and New Zealand.
Moreover, HMC will be the first ever international hospital chain acquired by Fortis, and comes over a year after it chose to back out of the tussle with Malaysian sovereign wealth fund Khazanah for Singapore-listed hospital operator Parkway.
"We will continue to consolidate the assets and expand our network, but I don't see M&A (merger and acquisition) slowing down.
"It is difficult to say which country, but we will continue to increase out footprint in Asia.
"The vision that we had at the time of Parkway continues, and that is to create an integrated pan-Asia healthcare business" Bali said.