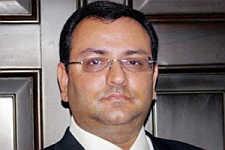 Tata Sons' Chairman Cyrus Mistry on Monday said Tata Motors would have to leapfrog to the next level through better use of technology in an intensely competitive market.

Making the customary April 1 address to employees of India's largest automotive company, Mistry said more focus was needed for improvement in key areas such as vehicle technology, where global auto giants were far ahead.

The new chairman asked for stronger team effort to pull the company back to a leadership position in terms of market share. Employees of Tata Motors, its subsidiaries, associate and joint venture companies from India and across the globe logged on to watch Mistry's address at Pimpri, Pune.

Managing Director Karl Slym, executive director (commercial vehicles) Ravindra Pisharody and other top executives of the company were present at the event, while employees from other centres joined through a web broadcast.

"Every year, we had Mr Ratan Tata address us from our company's Pune plant. This year, Mr Mistry kept the tradition alive. The speech was broadcast to all the 55,000 employees of Tata Motors across the globe. Mr Mistry said employees, who had seen the highs and lows of the company, were the biggest asset," said an executive in the research and development wing.

A severe slowing in vehicle demand, coupled with intensifying competition in the passenger and commercial vehicle segment, saw sales of Tata Motors plummet 11 per cent in 2012-13 to 810,086 units, against 906,768 units sold in 2011-12.

The passenger vehicle segment has had sales dipping 33 per cent, the biggest fall among mass producing PV companies in 2012-13, to 222,112 units as compared to 329,805 units sold in 2011-12.

In
February, Tata Motors dropped to a new low in the passenger car segment, at fifth spot, behind even Toyota Kirloskar Motors.
For many years, it had held the third spot, trailing Maruti Suzuki and Hyundai Motor India. Mahindra & Mahindra overtook the company in the middle of last year as it dropped to the fourth spot.
Mistry's biggest challenge is to make Tata Motors a more frugal and leaner automotive company, with increased focus on the PV division, believe analysts.
New managing director Karl Slym, along with a new sales, marketing and purchase team, has been tasked to ward off competition and avoid any further erosion in market share.
With a little more than a third of the group's revenue from Tata Motors, of which two-thirds come from Jaguar Land Rover operations alone, the truck and car making company has a tough challenge.
Since the turnaround of loss-making JLR, it has been heavily dependent on the foreign brands for growth.
The two brands presently contribute a little over 90 per cent of the profit for the company, followed by the commercial vehicle division.