They swear by slogans like 'how can your shirt be whiter than mine'. This cutthroat rivalry among FMCG players is pushing some, including market leader HUL, to spend more than what they earn on ads and promotion.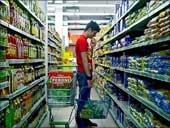 Hindustan Unilever spent a whopping Rs 2,449.02 crore (Rs 24.49 billion) on advertising and promotions during the last fiscal, ended March 31, 2010 -- way higher than the company's net profit of Rs 2,164.61 crore (Rs 21.65 billion) for the same year.
During the fiscal, the company witnessed the same trend over three quarters, when advertising and promotion expenses were higher than the company's net profit. Even in the October-December quarter, ad expenses at Rs 632.88 crore (Rs 6.33 billion) were not far below the net profit of Rs 649.11 crore (Rs 6.49 billion).
In the last quarter ended March 31, 2010, these expenses stood at Rs 626.52 crore (Rs 6.27 billion), as against net profit of Rs 581.2 crore (Rs 5.81 billion). During the January-March quarter, HUL was engaged in a fierce advertising battle with rival Procter & Gamble on claims and counter-claims about how its detergent was superior than the other.
While P&G's Indian Home Care division is not listed and therefore its quarterly figures could not be ascertained, one of the group's listed entities in the country, P&G Hygiene & Health Care Ltd also spent more than its profit on advertising and sales promotion. But, this was not the case in the previous two quarters of the current fiscal, as also in the last fiscal year ended June 2009.
Another listed entity of the P&G Group, Gillette India, spent less than its net profit on advertising and sales promotion in the three quarters of the current fiscal and in the last fiscal ended June 2009.
The other Indian FMCG firm having spent more than profits on these fronts is Marico, whose advertising and sales promotion expenses stood at Rs 351.11 crore (Rs 3.51 billion) as against net profit of Rs 233.54 crore (Rs 2.34 billion) in FY'10.
Companies like Dabur India, Colgate-Palmolive and Jyothy Labs, however, spent less than profits on these counts.
Globally also, FMCG companies spend large amounts on advertising. Global giant Unilever, the parent of HUL, spent much more than its net profit during 2009. The company spent euro 5.3 billion on advertising and promotion last year, 2009, as against net profit of 3.66 billion euro.
In comparison, these expenses stood lower at 5.05 billion euro, than net profit of euro 5.28 billion in 2008.
Rival P&G recorded a total advertising cost, including TV, print, radio, Internet and in-store ad expenses, of $7.6 billion dollars in 2009, as against net earnings of $13.4 billion dollars.
During 2008, these expenses for P&G stood at $8.6 billion, again lower than about $12 billion of net profit.