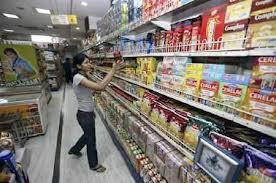 Last month when Nitin Mathur, an analyst with Mumbai-based research firm Espirito Santo, was on a four-day field visit to the national capital region and parts of rural Rajasthan, what stuck him was the sombre mood across FMCG distribution channels -- sales executives, stockists, distributors, retailers — when it came to uptake in rural demand.

"The growth in rural demand is clearly tapering off and that has put a stress on the sector," he says.

A far cry from the middle of last year when FMCG companies chuckled at the sight of a good monsoon, and the prospect of growing demand from the rural sector offsetting the sluggishness in urban demand.

"There has been no perk up in rural demand over the last two quarters," confirms Pravin Kulkarni, general manager, Parle Products, one of the largest players in the biscuit market.

He expects the sentiments to remain sluggish over the next six to eight months.

Most analysts tracking the FMCG sector expect growth in rural markets to trickle down to a high single digit in the October-December quarter of FY '14 against about 22 per cent growth last year.

The gap between growth rates in urban and rural markets has narrowed considerably over the last three quarters, says Dabur India CFO Lalit Malik.

"Rural growth is now almost at par with the growth rates in urban markets," he adds. For Dabur India, 50 per cent of its domestic sales comes from rural markets.

In the past three years, Dabur had more than doubled the number of touch points in rural India from around 14,000 to around 36,000.

Even as executives across FMCG companies huddle in boardrooms to discuss strategies to beat the slowdown, most agree in private that macro-economic variables hold the key to the puzzle.

Analysts expect companies to try out every marketing and promotion trick in the bag to push consumption from value-added package offers, tweaked price and product mixes to stepping up distribution penetration in untapped markets and shoring up alternative distribution channels.

The factors that led to this fall in rural growth are varied. Wage growth has reached a low of almost five years, even as the Central government's infrastructure spending touched a three-year low.

According to IDFC Rural Development Network's India Rural Development Report 2012-13, the Centre's spending on rural infrastructure has been falling consistently since 2009-10, both in absolute terms and also as percentage of gross domestic product.

The government's spending on rural infrastructure had touched a high of 0.9 per cent of GDP in 2008-09 and 2009-10.

It fell to nearly 0.5 per cent in 2011-12. Experts say this is leading to a lag in real rural wage growth rate.

According to the Reserve Bank of India, as compared to a negative growth of 0.4 per cent in real rural wages (adjusted for inflation) from 2000 to 2008, the average annual growth accelerated to 6.3 per cent between 2008 and 2013.

This had an impact on per capita monthly expenditure which grew at a healthy 5.5 per cent between 2009-10 and 2011-12, according to the latest NSSO data for 2011-12. As per Credit Suisse's recent estimate, real rural wages growth fell to a low of 1.4 per cent in July of 2013.

This would have adversely impacted monthly per capita consumption expenditure as well.

Analysts and industry players feel that it will be several quarters before the industry can hope for a double-digit rural growth. In the past three to four years, FMCG companies had ridden the accelerated rural growth and depended on their tried-and-tested formula of increasing rural distribution network to drive volume growth.

However, faced with a slowdown in sales growth in rural areas and an increase in the cost of getting incremental revenues, FMCG companies have started overhauling their distribution networks, reaching out now to untapped areas and revising their product and price mix.

Fixing the rural puzzle

There are players like Godrej Consumer Products Ltd, which faced a marginal fall in their rural sales growth -- from 30 per cent in FY '13 to 25
per cent in first half of current fiscal. To get back on track, GGPL is banking on product innovation — like the paper mosquito repellent, priced at Rs 1.
Overhauling distribution networks is another possibility.
It is being explored by Dabur.
The company has constituted a dedicated sales team to cater to the needs of chemists and pharmacies to sell not only healthcare but personal care products.
"Availability at chemists adds lot of credibility to a product," says Dabur's Malik. The chemist channel has always been key for its healthcare products.
The prospect of attracting a different segment of customers who approach drug stores is alluring.
Chemists, in the company's reckoning, are more educated and often act as advisors to consumers, help to leverage sales of personal care products. However, several chemists
Business Standard
spoke to point out that though over-the-counter FMCG sales are on the rise, it makes sense to stock only fast-moving products from healthcare brands.
Another FMCG major, ITC Foods, is reported to be betting big on the strength of its large network of
paan
shops to sell its entire range of packaged good and personal care products.
The company plans to sell Sunfeast biscuits, Yipee noodles and Vivel soaps through its network of
paan
shops.
Not just distribution
Changing the distribution strategy is not the only option being contemplated by FMCG companies. Mumbai-based Jyothi Laboratories, the maker of washing powder brands like Ujala and Henkel, is seeking to expand in areas where it has had only a minimal presence.
After a strong distribution presence in markets in South and West, the company is now focused on boosting its distribution in North, says CEO S Raghunandan.
The company has also unified the distribution network for its Jyothi and Henkel brands to further prune distribution costs.
The change in focus has already yielded result. In the quarter ended September 2013, the sales growth in non-South markets was nearly 40 per cent against 20 per cent in Southern markets.
Parle Products also plans to step up its distribution in markets where it has a weaker presence, namely those in South and East, reaching out to towns with smaller populations.
"In markets where we have deep penetration, the effort would be to push consumption through innovative packaging deals," says Parle Product's Kulkarni. Parle recently rejigged packaging for its volume driver Glucose biscuits, offering more (by weight) at the same price.
FMCG players point out that there are still some categories where rural penetration is low. Godrej Consumer hopes to cash in on the growing demand for two of its product categories -- hair colour products and household insecticides.
"The level of penetration of household insecticides range is just 25 per cent and that of hair colour is 45 per cent.
"This is bound to go up," says Sameer Shah, associate vice president, Finance and Investor Relations, GCPL.
The success of its Fast Card mosquito repellent in rural areas is a pointer to that effect, he adds.
What is worrying many FMCG companies is the higher incremental cost of acquiring new rural customers.
IIM-Bangalore's R Vaidyanathan, who has been tracking the FMCG sector for two decades, points out that during any slowdown, regional and local brands gain significant traction with price-conscious consumers.
"The power of that group of player in influencing buying decisions of consumers in rural markets is vastly under-estimated," says Vaidyanathan.
The credit squeeze faced by distribution channels is something FMCG companies have to deal with to spur rural demand, he adds.
As Nitin Mathur of Espirito Santo puts it, 2014 could well be the toughest test for the Rs 2.5 lakh crore (Rs 2.5 trillion)-FMCG sector's rural plans, which currently accounts for a third of its total sales.