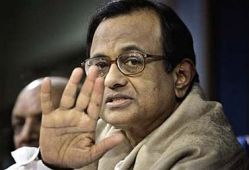 Finance Minister P Chidambaram on Tuesday met senior bankers and top industrialists in Bengaluru to thrash out the issues that have stalled a large number of projects across the country on various counts.

The meeting was part of a series of sessions aimed at finding ways to accelerate growth in Asia's third-largest economy.

Chidambaram has been visiting various states and meeting bankers and industrialists to identify as many as 341 projects stalled on account of issues such as land acquisition, gas or coal linkages, environmental clearances, forest clearances and in some cases the inability or the unwillingness of banks to restructure loans given to the promoters.

He declined to talk to the media after the 90-minute closed door meeting that was attended, among others, by Chairmen and Managing Directors of Canara Bank and Syndicate Bank. Financial Services Secretary Rajiv Takru was among other central government officials present.

Chidambaram first met bankers and industrialists in Mumbai to seek ways to revive slowing economic growth.

This was followed by a meet in Chennai with local bank chiefs and industrialists.

To clear bottlenecks clogging big projects, the government has set up a Cabinet Committee on Investment, headed by Prime Minister Manmohan Singh.

The first meeting of the committee was held in January, when it failed to clear objections by the defence ministry on 31 major offshore oil and gas exploration projects.

The committee will meet again this month to try and move ahead on these projects, Chidambaram had said last week.
Image: P Chidambaram