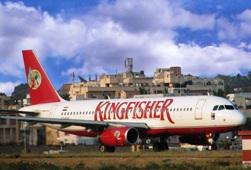 Flying permit of Kingfisher Airlines, which has been suspended by aviation regulator Directorate General of Civil Aviation, expires on Monday, but rules allow that it can be renewed within two years.

The beleaguered carrier has submitted a revival plan to DGCA, which has asked for more details regarding how it would fund the plan given the precarious financial situation the company is in.

"We have not taken any decision as yet on Kingfisher's licence. We are waiting for more details," highly-placed DGCA sources said, adding there is 'nothing concrete on the table as of now' as far as Kingfisher's revival plan is concerned.

While its lessors and service providers like Airports Authority of India are insisting that the airline should not be allowed to fly till it clears all dues to them, airline sources say as per DGCA rules, they have a two-year window to renew the Scheduled Operator's Permit.

SOP was suspended on October 20, capping three weeks of lockout in the cash-strapped
carrier preceded by a strike by its employees demanding payment of salaries.
Kingfisher is saddled with a loss of Rs 8,000 crore (Rs 80 billion) and a debt burden of another over Rs 7,524 crore (Rs 75.24 billion).
It was issued an airline licence on August 26, 2003, which was actually in the name of Air Deccan that was bought over by the liquor baron Vijay Mallya-owned carrier.
This licence is valid till Monday.
Kingfisher CEO Sanjay Aggarwal had informed DGCA chief Arun Mishra that the airline would require about Rs 652 crore (Rs 6.52 billion) over the next 12 months to run its operations and the amount would be put in by its parent company UB Group.
Of this, Rs 120 crore (Rs 1.2 billion) would be needed to meet salary arrears.
However, there has been no word from the UB Group as to how it would commit the funding and raise it from where. Banks have been unwilling to fund the airline.