A group of Air India unions on Friday asked Civil Aviation Minister Praful Patel to fix the accountability on those who are "sabotaging" the airlines merger process and have led to a loss of Rs 180 billion (Rs 18,000 crore) in the last three years.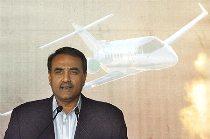 Common Action Group, a group of unions of Air IndiaNACIL who have joined hands to save the national carrier, said that "accountability be fixed on those persons for sabotaging the merger process, propagating the rhetoric of de-merger and causing losses to the tune of Rs 18,000 crore."
The CAG, in a statement, alleged that some anti-Air India (NACIL) lobbies comprised well-established people opposed to the merger of AI and Indian Airlines. The merger took place in 2007.
"In a bid to keep alive the very 'division' of both the companies, they propagated that the merger was a futile exercise and that eventually there would be a 'de-merger'. Following this, the integration went haywire the process which would have been done in the first three months - could not be completed in three years," they said.
The group claimed that some officials created divisions among the union by "consistently misusing their official positions and by giving recognition to splintered minority groups in the unions as against pro-merger majorities, they sabotaged the merger badly".
"Initially, the consulting company informed that the airline would benefit around Rs 8.32 billion (Rs 832 crore) by operational synergies alone in the first three months but even operational integration could not place and the company lost Rs 72 billion (Rs 7,200 crore) in the first year, Rs 50 billion (Rs 5000 crore) in the second year and the third year Rs 54 billion (Rs 5,400 crore).The cost of sabotaging the merger has caused the company a whopping Rs 180 billion (Rs 18,000 crore) so far," CAG said.
The group warned that if the rhetoric of 'de-merger' was allowed to be propagated it would lead to a loss of Rs 360 billion (Rs 36,000 crore).
Eleven recognised Air India employees unions are today holding a conference in a bid to save the airline which would be addressed by CPI(M) leader Sitaram Yechury and Congress MP Sanjay Nirupam.
The CAG also attributed frequent change of CMDs in the last three years as a contributing factor which allowed the anti-merger conspiracy to deepen further.
"Elements opposed to the merger sabotaged every aspect of integration due to which both Air India and Indian Airlines continued to operate separately on similar routes, separately maintained offices on similar stations and have not been able to synergize their existing computerized reservations systems till date," the unions said.
CAG also felt that due to disparity in payment of "productivity linked incentive (PLI)", 78 per cent of Air India's total salary bill of Rs 31 billion (Rs 3,100 crore) is being spent on 20 per cent of the employees while only 22 per cent of the bill was spent on 80 per cent employees.
Air India's annual wage bill is around Rs 3,100 crores for roughly 32000 employees.
"The long term fixed costs, by way of PLI, ranges between 70 per cent to 250 per cent for 20 per cent employees. But contrarily a saving of Rs 65 crore annually was taken by the erstwhile IA management from workmen categories by paying them a PLI of 10-20 per cent of their salaries," they said, adding workmen form 90 per cent of all the core competence areas of AI and 99 per cent of the key operational areas.
Extending their unconditional support, the CAG has asked the management and the government to achieve optimum synergies of operations in three months and total integration or merger to be complete within three months.
They also demanded refund of all money collected from employees for pension and also investigate into the alleged Rs 2 billion (Rs 200 crore) pension fraud. Apart from it, they asked the management to give career progression to erstwhile Indian Airlines employees.