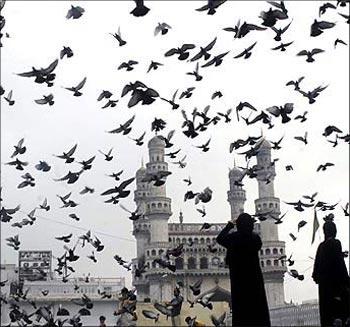 The Telangana agitation over the Centre's decision to create a new state in the region has forced several companies, including Bharat Forge, the Lakshmi Mittal Group and the NTPC-BHEL joint venture, to either put their expansion plans on hold or explore other states.
Addressing the media here on Tuesday after a meeting with industry representatives, Chief Minister K Rosaiah said Bharat Forge, which planned to set up a nuclear power plant equipment unit at Nellore at an estimated cost of Rs 2,500 crore (Rs 25 billion), was considering moving to Gujarat.
The proposed project was to generate employment opportunities for 5,000 people. Andhra Pradesh succeeded in getting the project after a stiff competition with Tamil Nadu.
Likewise, French car maker Peugeot, which was considering investments in the state, and steel major Lakshmi Mittal Group, which had also planned a unit here, were going slow on their expansion proposals.
The chief minister said Sri Lanka-based Brandix Apparel, which has units in Nellore and Visakhapatnam, was rethinking on its decision to set up a unit in the Telangana region. The company provides large-scale employment to the locals.
In June, the Andhra Cabinet had already approved allotment of 750 acre to bag the project for which the state had faced stiff competition from Rajasthan.
The NTPC-BHEL project was supposed to be the largest public sector investment in the state after the Vizag Steel Plant and had a potential to provide direct employment for 6,000 people, besides indirect employment for over 25,000. It had plans to manufacture equipment for thermal, hydro, gas and power plants.
Prime Minister Manmohan Singh was to lay the foundation stone for the unit but this was postponed following the death of former chief minister YS Rajasekhara Reddy. "We are not able to approach the prime minister asking to lay the foundation stone in view of the turmoil in the state," Rosaiah said.
Image: Pigeons fly against the backdrop of the historic Charminar monument in Hyderabad. Photograph: Krishnendu Halder/Reuters