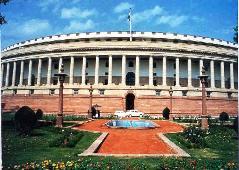 The Opposition parties may have their own reasons to let the retail fire engulf Parliament, but the reality is that state governments already have all the power to deny entry to foreign retailers -- a point that was made by the Prime Minister at a Youth Congress rally on Tuesday.

Retailers need to get up to 50 permissions from a state government before they can start a new store. And, the permissions required include things like valet parking, use of insecticides, chillers and freezers or sale of non-vegetarian processed food.

More important, most of these licences and permissions need to be renewed annually, leaving retailers at the mercy of state governments.

On the face of it, states cannot challenge any decision on issues related to foreign direct investment, as it is a central subject.

They also cannot make any specific provisions for foreign retailers and are not in a position to do much if a foreign retailer picks up a 51 per cent stake in an Indian chain that already has retail stores in various states.

But, retailers say, the reality is vastly different. After all, international retail store KFC was forced to close down its outlet in 1995 because the Delhi government said it did not meet hygiene standards. KFC had been facing opposition from Indian food outlets and NGOs.

The CEO of a leading retailer says: "The central government policy is just an enabler. State governments can stop the entry of any foreign retailer, as all the law-making powers are vested with them.

"They can refuse to renew a licence.

Hence, some state governments' opposition of retail FDI is baseless, as all the powers are, in any case, available to them.

For example, retailers need an annually renewable shops and establishments trade licence from the local municipal corporation; they have to abide by the Foods & Adulteration Act for which they need endorsement from regional authorities and an insecticide licence from the local agricultural department.

That's not all -- they need licence to
store food products, use weights and measures, permission to operate staff canteens, clearance from the traffic police and have to follow the Agriculture Produce Marketing Committee rules, among other things.
Retailers say just getting permission is not enough -- even the stock available at the stores have to be kept under check.
Under the Esma laws of some states, there are limits on keeping stocks in the inventory for products like rice, sugar and other food grains. This is to prevent hoarding.
Foreign retailers, of course, can go to court if permission is not given or if states do not give them level playing field with large domestic retailers.
"These cases can take years to resolve; so, that is hardly an option for retailers in states that don't want FDI," says a senior executive of a leading retailer that wants to come to India.
Kishore Biyani, chairman of the Future group, admits that it is a cumbersome process and it's not going to be easy for new players to come in.
Retailers will also face another challenge -- poor adoption of the modified AFMC Act by most key states in the country.
The modified Act could have transformed the distribution chain by allowing large retailers to buy directly from farmers rather than through mandis from middle men.
They could be involved in contract farming and also create their own private collection centres.
That would replace the government mandis.
The initial policy note floated by the Department of Industrial Policy and Promotion had suggested a clause under which foreign retailers had to mandatorily take permission from the state government concerned if they wanted to set up multi-brand retail outlets in a state.
That clause was dropped at a meeting of the Committee of Secretaries after the ministry of commerce and trade and some others said there was no need to add any regulatory burden on state governments, as the issue of FDI was 'formulated and administered by the central government'.
It was also felt that states, in any case, had powers under the Constitution to regulate "trade and commerce" within their territory.