The finance ministry seems to be gung ho about economic growth next financial year. It may peg this at nine per cent for 2011-12 in the Economic Survey, likely to be tabled in Parliament on February 25, even as the Reserve bank of India (RBI) hinted at a lower figure.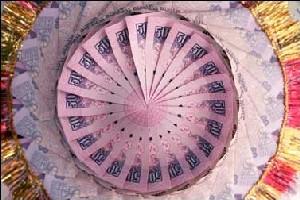 "We are likely to project economic growth of nine per cent next financial year," a senior finance ministry official said.

When asked for the rationale when RBI was talking of a slower growth rate next year, he said RBI was probably basing its analysis on growth projections of the International Monetary Fund (IMF), which also pegged growth in 2011-12 to be slower than that in the current financial year.

However, Crisil Principal Economist D K Joshi does not agree with the nine per cent number.

He pegs economic growth at 8.3 per cent for 2011-12, lower than his forecast of 8.6 per cent for the current year.

He attributed his forecast to the likely impact of RBI's tight monetary policy, as well as the uncertain global environment.

RBI has raised repo and reverse repo rates by 25 basis points each in its latest policy review, the seventh time since the central bank started reversal of its soft monetary stance to tame inflation, which had risen to 8.4 per cent in December, from 7.4 per cent in the previous year.

In its latest policy review, RBI had said, "Looking beyond 2010-11, the Reserve Bank expects domestic growth momentum to stabilise, though the GDP growth rate may decline somewhat as agriculture reverts to its trend (assuming a normal monsoon)."

Agriculture and allied activities grew 3.8 per cent in the first half of this financial year, which could be attributed partly to a low base of 1.8 per cent in the first six months of last year due to the impact of adverse weather conditions then.

IMF has pegged India's economic growth at 8.4 per cent for this calendar year, dipping to 8 per cent in 2012 from over 9.5 per cent estimated for 2010.

It should, however, be noted that IMF uses a methodology different from that used by India to estimate economic growth.

IMF bases growth on GDP at market price, which includes indirect taxes, against GDP at factor cost used by India, which does not include indirect taxes.

Central banks all over the world are known for their conservative forecast on growth numbers. For this financial year, RBI has maintained its earlier projection of 8.5 per cent growth.

However, the finance ministry had been sticking to 8.75 per cent growth, the official said.

The economy grew by 8.9 per cent in the first half of this financial year, clocking 8.9 per cent expansion in each of the first two quarters.

Despite industrial growth plunging to an 18-month low of 2.7 per cent in November, the official said the third quarter would come out with reasonable numbers because of a low base of 6.5 per cent and better expansion in other sectors.

He said the fourth quarter might turn out to be much better for the economy, despite a high base of 8.6 per cent.

The Indian economic growth had slowed down considerably after the global financial crisis deepened from the middle of September 2008, following the collapse of US services icon Lehman Brothers.

The economy grew only 6.7 per cent in 2008-09, despite a series of stimulus packages, compared to nine per cent annual growth in the preceding three years.

The economy slightly recovered to 7.4 per cent last financial year and now the finance ministry expects the economy to grow by 8.75 per cent.

However, according to the ministry, if the banking crisis in the euro zone spreads, the growth may come down by up to 0.35 per cent; while it may rise by up to 0.35 per cent, if the economy actually does better.