Fifty top executives of the world's leading corporations will meet in Mumbai on August 4 for a second round of discussions on the 'Future Global 100 Initiative', in the wake of the inaugural roundtable session held in Singapore on July 4, organisers said on Tuesday.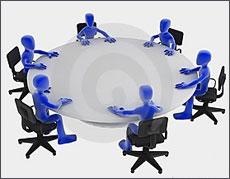 The Future Global 100 Initiative aims to create a community of companies and markets that can become the future leaders of the global economy and a driving force for continued growth.

The executives at the brainstorming session to set up a future business agenda includes Rajiv Sharma, CEO of Global Industrial Division, Coats, of the UK; Shubhada Rao,  resident & Chief Economist of YES Bank Limited of India; and Eric Mboma, the Africa Head for Commercial Activities of BHP Billiton of Australia.

In addition, Eric Yu, the president for Enterprise Business of Huawei Technologies of China, and Bombay Stock Exchange deputy CEO Ashish Chauhan will attend.

The executives would provide their inputs on the Future Global Agenda, focusing on the future of the global economy, global markets and global businesses, said Lionel Lee, the chairman of Singapore-based Platinum
Circle, which is organising the meeting.
"We will be looking at defining the future global growth issues, challenges and opportunities, as well as factors that hinder future growth, especially geo-politics, major disasters, currency fluctuations," said Lee.
Platinum Circle is supported by 1,000 corporations with a combined annual revenue of over $1 trillion.
The Singapore meeting was attended by Roger Crook, CEO of DHL Global Forwarding and Freight and member of the Board of Management of Deutsche Post DHL; Joe Tawfik, CEO & Board Member of Silah Gulf; and Donough Foley, the head of Government Relations & Public Affairs of Philips Electronics.
In addition, Tan Pheng Hock, president and CEO of Singapore's ST Engineering; Bill Padfield, CEO of Dimension Data; and Suresh Balan, president for East Asia of Electrolux, were present.
Platinum Circle has scheduled follow-on meetings of the corporate CEOs at Shanghai, Kuala Lumpur, Hong Kong, Jakarta and Sydney through to March, 2012.
It aims to compile the inputs, feedbacks and reviews of the CEOs into an agenda that will be presented to the governments overseeing major markets, seeking their support in establishing new business strategies and directives, said Lee.