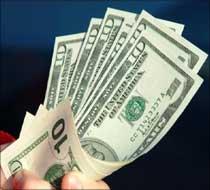 India's foreign direct investment inflows more than doubled to $4.67 billion in September, according to an official of the Department of Industrial Policy and Promotion.

In September 2011, the country had attracted FDI worth $1.76 billion.

The September 2012 figure is the highest for any month in this fiscal so far.

Foreign inflows, in August 2012, had declined by 20 per cent to $2.26 billion after registering an increase in July at $1.47 billion.

In April, May and June, the inflows ranged  between $1.24 billion and $1.85 billion.

For the April-September 2012 period, FDI inflows, however, declined by about 33 per cent to $12.84 billion from $19.13 billion in the year-ago period as inflows were small in the initial months, the official told PTI.

Sectors which received large FDI inflows in September include services ($3 billion), metallurgical ($685 million), construction ($644 million) and automobile ($635 million).

For the April-September 2012 period, India received maximum FDI from Mauritius ($6.25 billion), Japan ($1.32 billion), Singapore ($1.12 billion) the Netherlands ($968 million) and the UK ($592 million).

The inflows had aggregated to $36.50 billion in 2011-12 against $19.42 billion in 2010-11 and $25.83 billion in 2009-10.

Asked
about the reason for the jump in the FDI inflow, the official said the numbers are fluctuating in nature.
However, he said decisions like allowing FDI in multi-brand retail and civil aviation would help in boosting investments in the country in the coming months.
Industry experts say foreign investments are important for India, which needs to fund over 1 trillion over the next five years to overhaul its infrastructure sector like ports, airports and highways key to boost growth.
Decline in foreign investments puts pressure on the country's balance of payments and could also impact the rupee.