The Federation of Automobile Dealers Association  of India will soon launch a program for checking cars which are more than three years old across the country for Rs 500, liable to be reimbursed while going for insurance, a top official said on Thursday.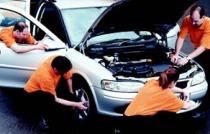 FADA has a tie up with ICICI Lambord and Bajaj Allianz who will accept the fitness certificate issued by the car dealer after due inspection and allow Rs 500 as a rebate for insurance, its President S P Shah said here.
"The program will be initially launched in Delhi, Mumbai and Hyderabad and slowly expand to cover the country," Shah told mediapersons.
He said dealers across the country are being educated on this and all the records will be computerised to prevent tampering of documents.
"We are in discussion with more insurance companies and also automobile manufacturers to join in this program that would benefit the customer as well as reduce the risk of accidents," Shah said.
Speaking on the auto sales this he said the growth could be around 12 per cent and even be higher than that.
He said recently they had a meeting with representatives of auto dealers from BRIC countries and are mulling to form international auto dealers association.