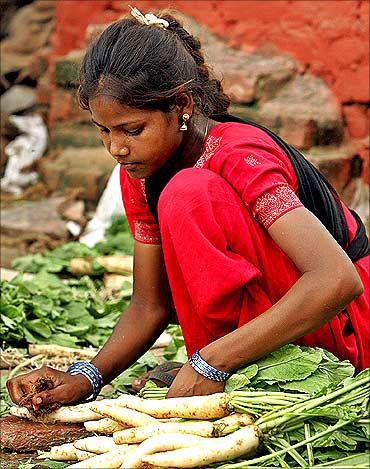 The issue of price rise is a worry for every government -- it is a political volcano. But the United Progressive Alliance on Friday steeply hiked the fuel price. Will people react? Or do they remain silent and suffer? Abhishek Mande talks to experts to 'read' the pulse.  
In what could be described as a politically bold move, the Centre on Friday hiked fuel prices  -- diesel price by Rs 2 a litre, petrol by Rs 3.73, kerosene by Rs 3 and Liquefied Petroleum Gas up by a whopping Rs 35. 
While political parties have expressed their displeasure with this, it remains to be seen how the society will react to this hike.
Sonal Shukla, a Mumbai-based social activist and director of Vacha Resource Centre for Women and Girls, says she isn't expecting any backlash whatsoever from society in this regard "barring some routine noises".
"The middle class, once very vocal, has gone into an income bracket where it doesn't bother much. It doesn't see itself being affected by this and there is a massive indifference on their part, which is sad," she said.
Eminent economist Professor Vibhuti Patel echoes Shukla's thoughts.
It's interesting to note that only this week, Vibhuti Patel has received a citation from Mrunaltai Gore for her work in Anti Price Rise Women's Movement during 1972-1975. Gore and Patel are known for their agitations on price rise.
Patel points out that the individualism instilled in today's youth makes it impossible for them to work as a group to make a difference.
"In these times of cut-throat competition and a dog-eats-dog world, people are thinking only about themselves. There is also a crisis of leadership and whatever social movements existed have broken down. People from our generation (who rebelled against price rise) have grown old and tired and the youth is driven by consumerism. Whatever little organised agitation we see are in by right-wing organisations. The youth are simply not interested in the burning issues of life." 
Shukla says Petroleum Secretary S Sundaresan's remark that consumers can afford higher prices is heartless and questions the rationale entirely.
She says, 'Everything from trucks that transport goods to our daily meals will be affected. One of the reasons there won't be much hue and cry is because majority of the middle class has 'abdicated' places that doesn't affect them directly. They will not react to what doesn't affect them."
While Shukla does agree that incidents such as rapes or issues such as the Khap panchayats trigger moral outrage, she feels it may not sustain itself.
"If at all, it will be seen in small town Indian middle class where the distractions are less. Today, the Indian middle class is far too hedonistic."
Patel also feels that it is not wise for the state to throw its hands up and leave the economy to the market in the name of economic development.
"If you don't have human capital how can you have economic growth? If your labour is malnourished, how will you achieve and sustain double-digit growth?"
About the "schizophrenic nature" of Indian economy which can afford 108 million phones in 2009-10 alone, but is struggling with bare essentials such as pulses, she says,  "Technology is no longer a luxury. Barely six per cent of Indians are part of the organised labour force. This makes technology essential. A domestic help has to have a mobile because she works in as many as six households every day and has to be reachable at any given point. This holds true for the rest of us too. If you're a freelancer, a laptop, mobile and Internet connection is a must. Else you won't get work. Breakdown of the community is the other reason why technology is no longer a luxury. If you don't have people to give you information or interact with, you will turn to technology. We have stopped trusting people anymore. We have stopped sharing. That is an issue."
Asked about a possible way out of the current mess of price rise and its complex impact on poor people, Patel says, "A complete revamp of the public distribution system is the solution."
She adds, "If the corporate sector is making the most of the economy of scale the public sector can do it too. Make commodities accessible to the poor."
However, the United Progressive Alliance government has increased prices quite steep and due to active Opposition and the media, it is unlikely to get away easily.
Manishi Jani, who fought Nanvnirman Andolan in 1973-74 against then chief minister Chimanbhai Patel in Gujarat, does think that issue of price rise will trigger a backlash. Jani was student leader then and fought a historic political battle against the price rise.
He says price hike, especially the LPG, will trigger some sort of a backlash.
"It is not right for the government to just step out of the scene and leave it to the private companies. Some things need to be subsidized. It isn't like the government is doing anything about the implementing minimum wage rules. In such a situation, you cannot let the prices be left to the market. The poor will be adversely affected," he says.
Jani further points out, "77 per cent of Indians live under the monthly income of Rs 600. He (S Sundaresan) might not know it. There was time when we referred to people as "rich/poor", but now we refer them as 'consumers'. This is really sad."
Photograph: Reuters