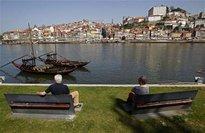 EU finance ministers endorsed a 78 billion euro ($110 billion) financial rescue package for debt-stricken Portugal, making it the third eurozone nation to receive a bail-out since the introduction of the common currency 10 years ago.
The assistance, which is envisaged to be provided over the next three years, will come in equal parts from the European Financial Stability Facility - a temporary financial safety net for eurozone nations - the European Commission's European Financial Stabilisation Mechanism and the International Monetary Fund.
They will contribute euro 26 billion each in loans and credit guarantees.
The finance ministers shared the European Commission's view that emergency aid for Portugal was necessary to "safeguard financial stability in the euro area and in the EU as a whole", they said in a statement on the opening day of their two-day meeting in Brussels.
Unlike previous meetings on the eurozone debt crisis, which were attended only by the finance ministers of the 17 nations having the single currency, the finance ministers of all 27 EU nations were present at the meeting.
The meeting was overshadowed by the arrest and subsequent detention of IMF Managing Director Dominique Strauss-Kahn
in New York on Sunday on charges of sexually assaulting a hotel maid.
The IMF chief, who was scheduled to attend the meeting, was represented by his deputy, Niemat Shafik.
The EU-IMF bail-out came in response to a request for financial assistance by Portugal's caretaker Prime Minister, Jose Socrates, on April 7 after his government reached a stage where it could no longer borrow money from capital markets at affordable interest rates.
Portugal will have to pay an interest rate of 5.7 per cent on the loan from the EU and the IMF.
In return for the assistance, Portugal will have to implement far-reaching structural reforms, including a "credible fiscal adjustment" to restore fiscal sustainability, especially by scaling down its budgetary deficit by 2013.
Fiscal imbalances should also be eliminated by strengthening the budgetary process, including enhanced monitoring and reporting, more efficient revenue administration and better control over private-public partnerships and state-owned enterprises, the ministers said.
Portugal is also expected to reform its public health system and public administration and to carry out an "ambitious privatisation programme".