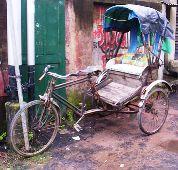 Nicknamed 'Business Baazigar', a successful entrepreneur from Bihar is disappointed that he could not gift his innovative 'rickshaw' to US President Barack Obama who invited him to the entrepreneur summit here attended by over 250 entrepreneurs from more than 50 countries.
"I could not bring the rickshaw for the US President because of logistics problem," a disappointed Irfan Alam told PTI at a reception hosted by Indian Embassy in Washington in honour of six Indian entrepreneurs invited by Obama to the summit that concluded in Washington on Wednesday.
The other Indian entrepreneurs are Shahnaz Husain, Ramachandran Kavli, Shaffi Mather, Shaheen Mistri and Sirajuddin Qureshi. Alam, founder and chairman of Samman Foundation set up in Patna in 2007, did not explain what the logistic problems were, but said he is determined to present to Obama a rickshaw as a gift from the rickshaw pullers of his country.
Alam came out with an innovative idea of making cycle rickshaw pulling business a pleasurable ride for the commuters by redesigning the vehicle and transformed the business into a success.
His rickshaw now run in several states. Alam said he is talking with the officials of both the Indian Embassy in Washington and US Embassy in New Delhi in this regard and hoped that he would succeed in his efforts.
"I was supposed to bring one rickshaw. I would request the (Indian) Ambassador to help me out to bring that rickshaw for President Obama," Alam said in response to a question at the reception.
"It has been developed indigenously, without any technology institute in the world. It has been developed in association with the rickshaw walah who have been pulling it from decades," he said.
Alam was proud in saying that the rickshaw developed by him was driven by US Ambassador to India Timothy Roemer, for about 200 metres when he visited Patna in February this year.
"He (Roemer) said, it is a good exercise, I would love to do it again," he told the select audience at the Indian Embassy here, adding that his team is talking a lot of effort to reduce the weight of the rickshaw so that it could be easier to bring it to the US.
Welcoming the Indian entrepreneurs, deputy Indian ambassador to US, Arun Singh, said: "When you look at the Indo-US relationship, everyone acknowledges that people to people dimension of the relationship has been the most critical element in terms of the Indian Americans who are here, the contribution they have made to technology."
Shaffi Mather founder of '1298 for Ambulance' said the goal of the summit was to initiate a change in the perception of the developing world and the Muslim communities around the world that new US Administration is friendlier and wants to deal with the developing countries and the Muslim communities on a equal footing.
"One interesting thing was that the entire delegate list was from the grass root and social enterprise and not the big business.
There is a definite push to engage from the grassroots and community building initiative," he said.
Muslim entrepreneurs who were invited by Obama to attend the two-day meeting described it as a 'good beginning' while the White House termed it as a 'work in progress'.
"It is the first step in the right direction. But we have a long way to go," Masooma Habibi who is a successful Afghan entrepreneur told PTI.
She is one of the three Afghan entrepreneurs invited from Afghanistan. Agrees Shaheen Mistri, one among the six entrepreneurs invited from India.
"I think, it is a good start. I think, certainly highlighting the issue of entrepreneurship is really important," Mistri told PTI.
Notably, Habibi and Mistri were personally praised by US Secretary of State, Hillary Clinton, in her speech on Tuesday.
"Masooma Habibi, who was born in an Afghan refugee camp, worked as a carpet weaver as a young girl, and now, at the age of 23, runs her own electrical engineering company in Kabul and has more than 20 employees," Clinton said.
"The realm of the entrepreneur exists beyond business. Entrepreneurs are tackling problems of poverty and inequity, like Shaheen Mistri, whose nonprofit provides after-school tutoring to children in slums in India," Clinton said.
Both Habibi and Mistri said the Obama Administration seems to be 'really committed' in their objective to build better relationship with the Muslim world; but noted that it will take some time and 'lot of similar efforts' before the objectives of the Obama Administration is achieved.
The White House spokesman, Mike Hammer, conceded this is not something that is going to happen overnight.
"He (Obama) wanted a new beginning with the Muslim communities around the world. I think what you have seen a real willingness on the part of US to build partnerships, to build partnerships based on mutual respect. I think we are making progress," Hammer told PTI.
"It is going to take time, but I think, the world is turning, in terms of its understating better of the US. Standing around the world of the US has gone up based on President Obama's commitment to try to develop these relationships and to promote better understanding and to have better exchanges so that we better understand each other," he said.
Addressing the summit, Obama said, "We are here because we know that over the years, despite all we have in common, the US and Muslim communities around the world too often fell victim to mutual mistrust."