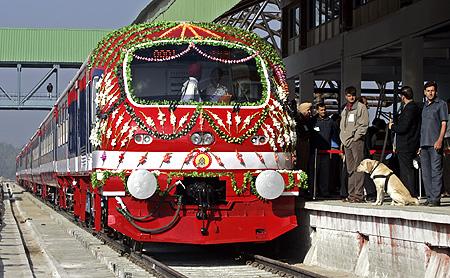 The Election Commission (EC) has raised certain questions on the government's proposal to allow foreign direct investment (FDI) in the construction and maintenance segments of the railways.
The department of industrial policy and promotion (DIPP), under the ministry of commerce and industry, had sought permission from the EC for passing the proposal in the Cabinet, since the model code of conduct became effective from March 5. The general elections are going to be held from April 7 to May 12.
Apparently, the EC had asked DIPP to send a brief note on the proposal, since it was asked by the Cabinet Secretariat to seek permission from the poll panel.
The EC has now raised some "procedural" queries based on the note, officials in the ministry of commerce and industry told Business Standard.
They said the EC has asked how the policy will be floated, what is the procedure to be followed, its general impact and, most important, whether the decision will tantamount to favouring the ruling party.
DIPP is yet to send a formal reply to the queries.
The proposal to allow 100% FDI in the construction and maintenance segments of the railway network was floated in August last year.
While private participation based on the public-private-partnership (PPP) model was already allowed by the railways in limited areas, there was a need to sync it with the country's FDI policy and Industrial Development and Regulation Act.
DIPP has proposed that up to 100% FDI be allowed in dedicated freight corridors and high-speed railway networks falling under the fixed-line category.
Currently, FDI is prohibited in railway transport other than mass rapid transport system and component manufacturing.
The railways has various models of participation under its policy on participative models for rail connectivity and capacity augmentation projects.

This policy was approved in December 2012, where it stated that a foreign direct investor can participate in expansion and modernization work of the railway network only after prior permission from the Foreign Investment Promotion Board (FIPB).
The railways proposes to earn around Rs 1 lakh crore through public-private partnership (PPP) projects, which include construction of factories for making locomotives and coaches. Several countries such as China, Japan and Germany have shown keenness to invest heavily in the world's fifth largest rail network.