As the southwest monsoon continues to narrow its overall deficit, the India Meteorological Department (IMD) on Wednesday exuded confidence that the dreaded El Niño weather pattern was unlikely to affect monsoon rains this year.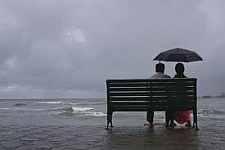 IMD chief L S Rathore said the weather pattern was unlikely to develop before mid-August, or after farmers had finished planting most of their kharif crop.

El Niño causes a warming of ocean surface temperatures in the eastern and central Pacific that can trigger
droughts or heavy rain in Asia. The phenomenon caused the worst drought in more than three decades in 2009.
On Wednesday, in its latest forecast, the Met office said the monsoon for the entire season was now 22 per cent below normal. "Almost entire Madhya Pradesh, east Rajasthan and also Vidharbha and Telengana have received normal rains till date," it said.
As of on Wednesday, rains are deficient in around 48 per cent of the entire country and normal in 40 per cent area. However, in northwest India, rains are now 36 per cent below normal as against the earlier 45 per cent.