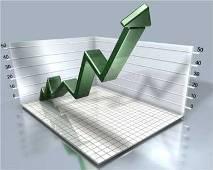 Leading economists and analysts have welcomed the strong monetary measures announced by the Reserve Bank of India on Tuesday to batten down high inflation, saying rising prices are a bigger worry than a growth moderation.

They remained mixed in their view whether this signals a pause to the spate of rate spikes in the near term.

"The RBI perhaps is doing the right thing by focusing on inflation and sacrificing 50-75 bps on the growth front.

"An 8 per cent growth rate, with moderate inflation, is a much more desirable scenario than a higher growth, but with double-digit inflation," Ernst & Young national leader for global financial services Ashvin Parekh said.

Parekh also said this probably could be a signal to the spate of rate hikes considering the drop in credit offtake since the Q1, which is expected to further slow to around 18 per cent from the current 20.1 per cent due to today's action.

"However going forward, I do not expect any rate hikes for the next quarter," Parekh said.

Earlier in the day, RBI upped its key short-term lending rate by 50 bps to 8 per cent and warned that inflation would continue to rule high, and revised upwards its 7 per cent from 6 in May.

Today's move signals that RBI is taking a much stronger anti-inflationary policy stance and shows the regulators' concern seem to tilt towards caution as with the rising signs of growth moderation RBI could have paused, Parekh pointed out.

"The monetary policy was announced in the backdrop of sticky inflation, growth moderation and uncertain global economic conditions.

"Today's hike in the repo rate by 50 basis points is mainly to control inflation, especially non-food manufactured inflation, which is going out of hand," Fitch Ratings India director Devendra Kumar Pant said.

He added that the sharp spike will certainly have its impact on economic growth, which is likely to be below 8 per cent this fiscal.

However, rating agency Icra managing director and chief executive Naresh Takkar said another hike is on the cards, going by the hawkish stance of the central bank Governor.

"The stronger-than-anticipated policy action is accompanied by a hawkish guidance, linking a change in the policy stance to a visible sustainable downturn in inflationary pressures," Takkar said.

Another reason for this stance is that 'Icra expects core inflation to remain over 9 per cent in the first half and may surpass even 10 per cent in some months; accordingly, another rate hike in the short-term cannot be ruled out,' Takkar said.

Dun & Bradsheet senior economist Arun Singh also opined that the higher-than-expected
spike has 'significantly increased the likelihood of pause for rate hike' and justified the steep increase saying RBI was guided by the persistence of inflation, recent global developments and volatile commodity prices.
"High interest rates would not only help in tempering inflationary expectations but would also curb the demand side pressures especially, investment demand," Singh noted and said consequent to this a moderation in investment may restrain gross domestic product growth this fiscal.
Market analysts have broadly termed the 50 bps repo hike as unexpected but pointed out that inflation is the prime concern now.
The Street was expecting a moderate 25 bps hike.
Broking firm IIFL's economist Ashutosh Datar said RBI action in part reflects its desire to send a strong anti-inflationary message to market participants and also shows front-loading of rate hikes. Expecting another bout of rate hike before a medium term pause, he said a policy easing is not on the cards yet.
On GDP growth, he said, "While there have been signs of growth decelerating, we don't expect an abrupt deceleration and maintain our FY12 growth estimate of 7.6 percent."
Future Capital Holdings vice-chairman and managing director V Vaidyanathan said, "The RBI has signalled determination that they will not step off the pedal until inflation is tamed.
"It also looks that the RBI has front-loaded the raise to specifically temper inflationary expectations, not just inflation itself."
He is also of the view that this could be the peak or close to that, as in a couple of quarters, the combined effect of the many policy actions in the past will begin to take effect.
Mape Securities research head Kislay Kanth said inflation control stays the most important priority.
"The RBI is very clear that inflation is the main priority for them. The factors contributing to inflation keep changing over time, and have moved from food to manufacturing inflation."
Religare Capital Markets chief economist and director Jay Shankar said today's move clearly shows the strong 'anti-inflationary' stance of the RBI and said he does not rule out another 25 bps hike on September 16, as inflation is now expected to persist at elevated level until December.
SBI Mutual Fund chief investment officer Navneet Manot described that policy statement as indicative of the urgent need to control inflation which has emerged as the predominant concern for maintaining the medium-term growth trajectory.
He also pointed out that the policy stance largely follows the script of the annual policy review in May, where the stance of the policy had decisively shifted to controlling inflation and anchoring inflationary expectations.