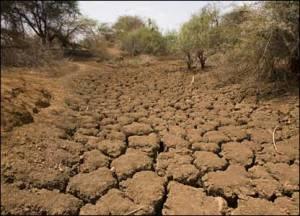 A new United Nations report says that any change in India's summer monsoon due to climate change will immediately threaten the livelihood of farmers with marginal or small farm holdings.
As per the 2001 census, approximately 92 million households or 490 million people are dependent on marginal or small farm holdings.
This translates into 60 per cent of rural population or 42 per cent of total population. Fifty-one per cent of entire sown land is totally rain-fed.
Thus effects of climate change in the form of drought in the country will have serious implications on the livelihood of these people, according to the United Nation's report 'The State of World Population, 2009'.
The report further goes on to say that women play an important role in ensuring their communities' ability to cope with and adapt to climate change in India.
"After a cyclone in Orissa, most relief efforts were channelled through women, who received relief-supplies, loans and house-building grants.
"Increase in access to family planning services and acceptance by the community results in women better exercising their reproductive freedom," the report said.
Family planning, reproductive health care and gender relations could influence the future course of climate change and affect how humanity adapts to rising seas, worsening storms and severe droughts, the report said.