The Telecom Ministry on Monday said its technical team is testing the solution of interception given by smartphone BlackBerry maker Research In Motion (RIM) and is expecting a report by end of October.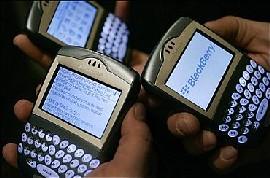 "Our (Department of Telecom's) testing team is looking the interception solution provided by RIM and we expect a report from them in a month and then we will look what has to be done," Telecom Secretary R Chandrasekhar said.

Recently, the Canadian firm has come up with a solution for real-time interception of its Blackberry Enterprise Services (BES) after seeking several extensions of deadlines for nearly a year.

The government had set August 15 as the deadline for RIM to provide the country's security agencies with interception keys to enable real-time tracking of its popular BlackBerry messenger and corporate email services in readable format.

If the solution provided by RIM withstands scrutiny, the government plans to ask other smartphone-makers to come up with a similar solution.

Besides RIM, Nokia is another player that provides a push mail facility to its subscribers. According to the Indian Telegraph Act, 1885,
and the licencing terms and conditions for telecom service providers, companies are required to provide a lawful interception and monitoring solution for any service they provide.
The government has extended the deadline several times to get a solution from RIM. It is estimated there are about one million BlackBerry subscribers in India.
RIM uses powerful encryption to encode email messages as they travel between BlackBerry devices and a computer - the BlackBerry Enterprise Server (BES) - designed to secure e-mails.
RIM had earlier insisted that the company does not possess any master key to decode the messages, as it is randomly generated on customers' Blackberry smartphones. Security agencies had expressed concerns over the encrypted data being sent using BlackBerry mobile phones and have been asking for a decryption solution for its corporate mails and messenger services.
Based on the perceived security threat, the DoT had instructed all telecom service providers to ensure that a technical solution for interception and monitoring of BlackBerry services in readable format is made available to law enforcement agencies, failing which the services would have to be stopped.