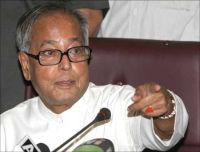 Describing the committed taxpayers as "engines of economy", Finance Minister Pranab Mukherjee on Thursday exhorted the young IRS probationers to treat them as their clients and not as adversaries.
"The assessee is no longer considered an adversary, committed taxpayers are the engines of our economy and therefore important clients of Revenue Department," Mukherjee said, while addressing the Indian Revenue Services probationers at Parliament House complex in New Delhi. He said assessees' "comfort zones" have to be significantly enhanced, even as deliberate evaders and offenders are punished.
The probationers were in the complex for a training programme on appreciation of Parliamentary processes and procedures. The programme was conducted by the Bureau of Parliament Studies and Training.
Mukherjee said liberalisation, globalisation, technological innovation are not mere buzzwords, but real happenings driven by men and market forces that are sometimes not within personal control.
Asking the officers to do their best, he said: "The challenge is to analyse these developments scientifically, regulate and guide them where required and ride them progressively, keeping the greater good of the greater number in mind."
The finance minister said the challenges and opportunities of development, in general, and that of sustaining high growth over an extended period of time, in particular, have become more complex.
"The growing influence of global developments on our domestic concerns makes it necessary to use all our resources and policy to serve India's larger political and economic interests, both at national and the international levels," he added.
Following the global financial meltdown, India's growth rate slipped to 6.8 per cent in 2008-09 from over 9 per cent in the preceding three years.