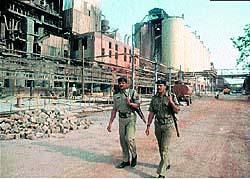 Tender documents and minutes pertaining to the Rs 551.5-crore (Rs 5.51-billion) divestment of Bharat Aluminium Company in Chhattisgarh's Korba district eight years ago cannot be traced by the ministries concerned, according to a response to an Right to Information application, seeking details of the same.
In its order on an RTI query filed by advocate Arjun Harkauli on the issue, the Central Information Commission observed, "In response to therequest for information relating to disinvestment of government's 51 per cent stake BALCO, the Chief Public Information Officers of the respondents have stated that they have made attempts to search and trace the desired documents but to no avail."
In its reply, the government of India has nowhere stated that the documents have been destroyed or that it cannot be supplied due to any bar under Section 8 of the Right to Information Act, 2005.
Sterlite Industries had acquired 51 per cent stake in Balco in March, 2001. The global advisor for the deal was Jardine Fleming India Securities Ltd, with whom the agreement was signed by Department of Disinvestment on behalf of the Indian government.
In its response dated January 29, 2009, the department of disinvestment, which comes under the ministry of finance, said, "The records available with the department of disinvestment show that ministry of mines, and not department of disinvestment were in consultation with the advisors, even though the department of disinvestment has signed the agreement with the advisors."
In its response dated March 3, 2009, the ministry of mines had stated: "The said documents have not been found in the available files in this ministry." It also said: "There are no records available showing that discussions were held with them (Sterlite Industries) in connection with their acquisition of majority stake in Balco."