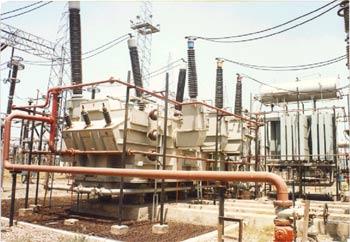 With improvement in the stock market, the government is looking at divesting another 10 per cent stake in the largest power generation company NTPC, which may also raise fresh equity to part finance its expansion programme.
According to sources close to the development, NTPC is likely to hit the capital market with a follow-on public offer to raise nearly Rs 6,000 crore (Rs 60 billion) early next fiscal.
The government would divest 10 per cent of its stake and 10 per cent would be the fresh equity offered by NTPC.
After the follow-on public offer, the government's holding in the company would come down to nearly 80 per cent from the current 95 per cent. NTPC has sent the proposal to the Power Ministry from where it will go to the Cabinet for approval.
Following this, the company will file the draft prospectus with the market regulator Securities and Exchange Board of India, officials said, adding that the entire process would take about 6-8 months. Going by this, the FPO is not possible this fiscal, but may be early next year, a company official said.
However, he refused to divulge any further details. NTPC has earmarked a capital expenditure of Rs 60,000 crore for the current plan period.
NTPC's current power generation capacity is over 30,000 MW and it plans to scale it up to 50,000 MW by the end of the XIth Five Year Plan (2007-2012).
Nearly, 18,000-MW projects at various locations such as Dadri, Mouda, Jhajjar, Vindhyachal, Sipat, Rihand, Simhadri, Barh and Korba are under construction and would be commissioned by 2012, thereby taking NTPC's capacity to 50,000 MW. NTPC, through its initial public offering in 2004 raised around Rs 5,300 crore (Rs 53 billion).
The government divested its five per cent stake in the company and 10 per cent fresh equity was raised. The company's FPO was postponed last year due to the volatile market conditions.
NTPC is the largest thermal power generation company in India and also plans to enter the nuclear as well as the renewable energy space.
Image: An NTPC plant