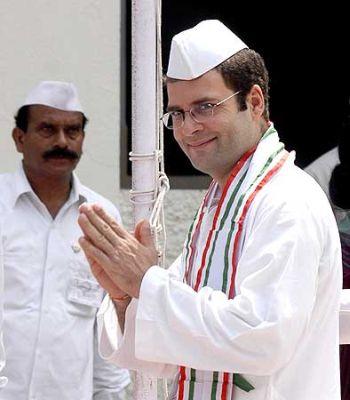 Congress MP Rahul Gandhi may have championed the cause of Kalawati, the wife of a deceased farmer in the Vidarbha region of Maharashtra, and highlighted the woes of the Bundelkhand region of Uttar Pradesh. But he may now become involved with a financial institution.
This after officials from the state-run National Bank for Agriculture and Rural Development (Nabard) approached him for help to make the institution regain its pre-eminence in agriculture and rural sectors.
Officials, under the National Bank Officers' Association, have sought Gandhi's intervention to stop the Centre's plan to transfer the Reserve Bank of India's 72 per cent stake in Nabard to itself and, eventually, divest some equity.
The association has claimed the divestment move will be detrimental to the interests of millions of poor farmers who are under stress and looking for support from the government and Nabard.
The decision to rope in Gandhi comes as Nabard's name figures in a list of 25 public sector undertakings shortlisted for disinvestment. The finance ministry allocated Rs 1,100 crore (Rs 11 billion) in the Budget of 2009-10 for transfer of RBI's 72 per cent stake in Nabard.
In addition, Nabard has appointed Boston Consulting Group to prepare a roadmap for its repositioning, even as it has limited options to raise funds for refinancing. In November last year, Nabard reduced interest rates on refinance of investment credit by 50 basis points for lending by various rural financial institutions.
The general secretary of the National Bank Officers' Association, DS Chauhan, told Business Standard: "In the association's meeting, the members argued that the Centre's disinvestment proposal will have a retrograde effect on character, objective and corporate goals of Nabard. Although Gandhi was non-committal, he sought the Nabard management's views in this regard."
The Nabard management declined to comment on the issue.
Further, Nabard officials have taken up the issue of parity with RBI employees. According to the association, there have been inordinate delays in grant of the special allowance guaranteed by the Nabard Act, 1981, Staff Rules, 1982, and various assurances by the management.
The officials are also concerned over stagnation of more than 400 officers at the mid-management level. Chauhan said despite the recommendations by a human resource committee, the management has not taken a decision.
Image: Rahul Gandhi. Photograph: Reuters