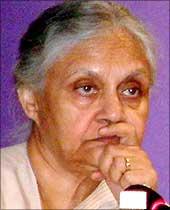 Giving relief to the common man, Delhi Chief Minister Sheila Dikshit on Monday announced withdrawal of a proposal to impose five per cent VAT on CNG, which had drawn flak not only from the opposition but even a section of Congress MLAs.
Replying to a discussion on the budget, which was passed by the Delhi Assembly, Dikshit said considering the demands in this regard, the government has decided to withdraw the VAT on CNG.
The Delhi government has also decide to cut VAT on the hiked component of petrol, which would make the fuel price cheaper by 92 paisa.
Presenting the budget on May 28, Dikshit had proposed imposition of VAT on CNG to generate around Rs 110 crore (Rs 1.1 billion) in revenue while withdrawing VAT on the increased component of petrol.
The VAT would have pushed up the CNG price to Rs 37.20 per kg from the current Rs 35.45 per kg, a rise of Rs 1.77.
The government's decision to impose VAT on CNG, which fuels public transport on Delhi roads, had met with strong protests not only by the opposition BJP but a number of
Congress
MLAs had also openly criticised the move. Congress MP from West Delhi constituency Mahabal Mishra and around 15 party MLAs had demanded a roll back arguing that any increase in price of the fuel would result in hike in taxi and auto fares which would have a negative effect on the party ahead of next year's assembly polls.
Any hike in the price of the fuel would result in rise in price of essential commodities as goods carriers also use CNG, they argued.
Demanding immediate rollback of VAT on CNG, Delhi BJP had called for a 'Delhi bandh' on Thursday last to protest against spiralling price rise, including that of petrol and the proposal for introduction of VAT on CNG by the Delhi government.