India Inc has said the decision to hike in diesel price was "inevitable" and this would help in fiscal consolidation.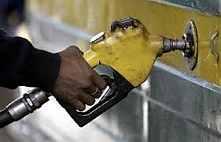 Industry body Ficci said the fuel price increase was inevitable in the present situation given the huge under-recoveries being suffered by oil marketing companies on account of cross-subsidisation of diesel.

"The hike, obviously, stems from the realisation that it was essential for containing the fiscal deficit which is vital for reviving growth of the economy," Ficci President R V Kanoria said.

Sharing similar views, CII said the decision to raise diesel prices and LPG -- beyond six cylinders – is borne out of necessity.

"The move was essential for controlling the fiscal deficit, which has been weighing on the economy. Therefore, we congratulate the government on this bold decision," CII President Adi Godrej said.

On Thursday, the government raised the diesel price by a steep Rs 5 per litre and capped the number of subsidised cooking gas cylinder to six per household a year, decisions that will rake in an additional Rs 20,300 crore (Rs 203 billion) to the oil companies.

Further, CII said that while it may seem that a hike in diesel prices will hurt the common man through its impact on inflation, the hidden impact of under-pricing
petroleum products is quite severe.
"The government has to borrow from the market at high interest rates to pay for petroleum products which are being imported at high cost," Godrej said.
Further, he said, since the consumer does not have to pay a high price, even as international prices are rising, there is no attempt to economise spending on a scarce resource.
Ficci said the Reserve Bank should now think of cutting interest rates because the government has acted to control the fiscal deficit.
The Centre hopes to bring down the deficit to 5.1 per cent of GDP this fiscal from 5.76 per cent last fiscal. Ficci also stressed the need on conservation of energy without compromising on growth.
"Accelerating awareness creation programmes for energy efficiency and incentives to invest in new technologies in energy-intensive industries are some other issues which require attention," Kanoria said.
India's economic growth in the first quarter (April-June) of this fiscal stood at 5.5 per cent. Although it was much lower than 8 per cent in the corresponding period last fiscal, the growth showed improvement on sequential basis. The growth rate in January-March was 5.3 per cent.