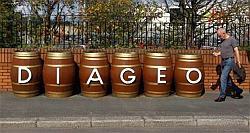 UK-based Diageo Plc will kick off its over Rs 5,441-crore (Rs 54.41-billion) open offer to acquire an additional acquire 26 per cent in United Spirits from April 10.

The open offer will close on April 26.

In a filing to the BSE, United Spirits said the manager to the open offer, JM Financial Institutional Securities Pvt Ltd has informed that the offer price shall remain at Rs 1,440 per equity share.

". . . the manager to the open offer has informed that the acquirer has received all applicable statutory approvals.

"The Tendering Period shall commence on April 10, 2013 and shall close on April 26, 2013," the filing said.

The offer price would be paid together with interest computed at the rate of 10 per cent per annum on the offer price from March 19, 2013 till the date of actual payment to all the public shareholders who successfully tender their equity shares in the offer, it added.

Shares of United Spirits on BSE were trading at Rs 1,769 apiece, down over 3 per cent in a weak Mumbai market.

Diageo Plc had earlier said it would launch its over Rs 5,441-crore open offer to acquire 26 per cent stake United Spirits between January 7, 2013 and January 18, 2013.

However, the delay in getting Competition
Commission of India nod had made it approach market regulator Securities Exchange Board of India requesting it to allow making the offer only after getting all the requisite regulatory approvals.
While granting its approval to the request, the Sebi on its part has said that Diageo will have to pay an interest of 10 per cent per annum for the period of delay to the public shareholders tendering their shares in the open offer.
In a letter dated January 31, 2013 Sebi had said the letters of offer needed to be dispatched to public shareholders within seven days and the share tendering period was supposed to begin within next five days, that is no later than February 18. Subsequently, the payment to all shareholders was required to be completed by March 18.
However, JM Financial requested Sebi that the tendering period should be allowed to commence within 12 days of receipt of all applicable statutory approvals.
Sebi accepted the request with a condition of additional interest payment for the delay and Diageo would announce the revised schedule in due course.
CCI had given its nod to the deal in February this year.
In November last year, in one of the biggest stake sales by an Indian firm to a foreign company, UK-based Diageo agreed to buy 53.4 per cent stake in United Spirits for Rs 11,166.5 crore (Rs 111.66 billion) in a multi-structured deal.