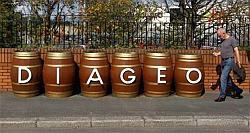 Diageo's open offer to acquire United Spirits Limited shares would commence on April 10 and continue till April 26.

Through the offer, Diageo intends to acquire 37.78 million shares (26 per cent stake) at an offer price of Rs 1,440 a share.

On Monday, a five-member independent directors' committee, headed by former Securities and Exchange Board of India chairman G N Bajpai, had approved Diageo's open offer price.

The Reserve Bank of India, Sebi and the Competition Commission of India had already approved the proposal.

An official of JM Financial, which would manage Diageo's offer, confirmed the open offer dates.

On Tuesday, the USL stock closed at Rs 1,859.8 on BSE, down 1.57 per cent over the previous close, after the company informed the exchanges the independent directors' committee had said Diageo's open offer price of Rs 1,440 a share was 'fair'.

In early trade, the stock hit a low of Rs 1,840,
as a section of market players had expected a revised offer at a much higher price.
In November 2012, Diageo had entered into an agreement with USL to buy 27.4 per cent stake in the latter through share purchase from existing promoters (19 per cent) and preferential allotment of shares (eight per cent).
On January 31, Sebi had cleared Diageo's open offer for 26 per cent stake in USL, part of a $2-billion deal involving the UK-based company acquiring majority stake in the Vijay Mallya-led UB group firm.
As part of the deal to acquire 53.4 per cent stake in USL (worth about Rs 11,167 crore or Rs 111.67 billion), Diageo has made a Rs 5,441-crore (Rs 54.41-billion) open offer to acquire 26 per cent stake from non-promoter shareholders.