Global banking major Deutsche Bank did not recognise up to $12 billion of paper losses during the financial crisis, that helped it to stave off a government bailout, says a media report.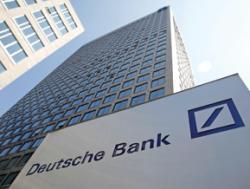 Anshu Jain, an Indian-origin, is currently Deutsche Bank's co-chairman. The other co-chairman is Jurgen Fitschen.

British daily 'Financial Times' has reported that Deutsche Bank "failed" to recognise up to $12 billion of paper losses during the financial crisis, helping the bank avoid a government bailout.

The report cited former bank employees' allegations in complaints to US regulators.

"The three complaints, made to regulators including the US Securities and Exchange Commission, claim that Deutsche misvalued a giant position in derivatives structures known as leveraged super senior trades, according to people familiar with the complaints," the daily said.

According to the report, all three allege that if Deutsche had accounted properly for its positions - worth $130 billion on a notional level - its capital would have fallen to dangerous levels during the financial crisis and it might have required a government bailout to survive.

"Instead, they allege, the bank's traders - with the knowledge of senior executives - avoided recording 'mark-to-market', or paper losses during the unprecedented turmoil in credit markets in 2007-2009,"
the report noted.
Two of the former employees have alleged that Deutsche mismarked the value of insurance provided in 2009 by Warren Buffett's Berkshire Hathaway on some of the positions, it said.
Quoting a statement from Deutsche Bank, the report said that the allegations were more than two and a half years old and were publicly reported in June 2011.
The bank has also said the investigation revealed that the allegations "stem from people without personal knowledge of, or responsibility for, key facts and information." It also added that it would "continue to co-operate fully with the SEC's investigation of this matter."
The complaints were made at different times in 2010 and 2011 independently of each other. All of the men spent hours with SEC enforcement attorneys and provided internal bank documents during multiple meetings, the report said.
"Two of the former Deutsche employees have alleged they were pushed out of the bank as a result of reporting their concerns internally," the daily said.