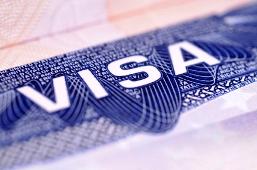 It seems the global turmoil has had no effect on the great American dream of Indians, as the US consulate here is flooded with visa applications.

David Tyler, visa chief at the consulate, said the number of applications for tourist, business and education visas had reached the pre-September 2008 level and they were likely to issue 200,000 visas this year.

"After the deep recession of September 2008, there was a 10 to 15 per cent dip in the issuance of visas from the Mumbai consular service windows," he said.

Tyler said the new consulate in the Bandra-Kurla complex, developed on a 11-acre lease at an investment of $83 million, had 40 windows to quickly service visa applications, compared to 10 windows in the old Lincoln House premises.

"The objective is to quickly process visa applications, as there are 25
US diplomats assigned to this job. The present facility is able to dispose visa applications quite early.
"We now have a bigger and more pleasant space and the capacity to serve more visa applicants at the same time," he said.
Tyler said the US Congress had capped the number of H-1B visas to be issued annually at 65,000. "Most of these applications come from Indians. Last year, the US could not meet the target of 65,000, but hopes to achieve it this year," he said.
Consul general Peter Haas said the new consulate reflected the growing partnership between the two countries.
"As our partnership expands and modernises, so must our consulate. This state-of-the art facility will allow us to reach out to new people, both in person and using new digital technologies," he said.