Kingfisher Airlines Ltd's problems are set to worsen. Delhi International Airport Ltd (DIAL) has filed a cheque bouncing case against the cash-strapped airline and its top management after three cheques, with a total value of Rs 3 crore, bounced.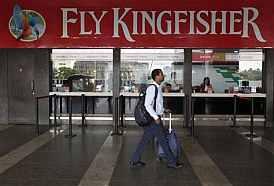 Kingfisher posted a loss of Rs 1,140 crore in the March quarter and its revenue also dipped on capacity reduction. The airline has not paid salaries to its staff for four months and the employees are preparing for an agitation. Kingfisher chairman Vijay Mallya had promised to clear a substantial portion of the February salaries last month, but it hasn't happened yet.

"The complaint was filed under section 138 of the Negotiable Instruments Act earlier this week against Kingfisher Airlines for three dishonoured cheques in the chief metropolitan magistrate's court in Delhi. After hearing the submissions, the court has issued summons against Kingfisher chief executive officer, chief financial officer and two executives who had signed cheques on behalf of the company," a source said.

A Kingfisher spokesperson did not respond to an email query. A spokesperson of GMR Infrastructure Ltd, which owns majority stake in DIAL, also refused to comment.

Kingfisher owes over Rs 30 crore (Rs 300 million) in dues to the Delhi airport and has been placed on a cash-and-carry mode since last year.

The GVK group which runs the Mumbai airport, too, had threatened Kingfisher Airlines with legal action over cheque bouncing and had served a notice two months ago. The airline owed the Mumbai airport around Rs 90 crore (Rs 900 million).

According to information gathered  by Right to Information (RTI) activist Sanjay Shirodkar, five cheques valuing Rs 122.07 crore (Rs 1.22 billion), issued  by Kingfisher between last August and February to the Airport Authority of India, were dishonoured due to insufficient funds.

The same RTI reply had revealed that Kingfisher was not the only carrier whose cheques were dishonoured. These included Jet Airways, JetLite, Emirates and Qatar Airways.