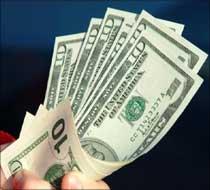 Deutsche Bank's new co-CEO Anshu Jain has voiced his support for German Chancellor Angela Merkel's austerity drive to tackle the euro zone debt crisis.

Making his first public appearance since taking over the reins of Germany's largest bank 12 days ago, Jain told a meeting of top-ranking businessmen and politicians in Berlin on Wednesday that debt reduction and budgetary consolidation advocated by Merkel are the most important steps to achieve greater cohesion in Europe.

Jain, 49, is the first India-born head of Deutsche Bank in its 124-year history and his address to the Economic Council of Merkel's Christian Democratic Union was eagerly awaited.

Merkel, Finance Minister Wolfgang Schaeuble and German member of the European Central Bank governing board member Joerg Asmussen were among the dignitaries present at the meeting.

Speaking on 'the way out of the euro zone debt crisis', Jain said deficit financing, in his view, is not the right strategy for Europe.

"Europe is finding itself at the cross-roads and there is only one way forward, and that is reduction of deficits," he said.

"We are experiencing one of the worst financial crises in the history of modern Europe," and its end is open, Jain said.

However, he is optimistic that Europe will recover and come out of the crisis stronger than ever before.

Debt burden in the United States is significantly
higher than in the euro zone, Jain said.
In his view, the deficit financing practised in the US is not the right strategy for Europe.
"No body can demand from the core nations of the euro zone to finance the debts of their neighbours indefinitely," he said.
Europe must grow together through a fiscal union. No European country alone can compete against the US or China, he said.
Jain praised the strength of the German economy and competitiveness of the companies and spoke of the key role of the "Mittelstand" (medium-level enterprises) in the economy.
He also underlined the importance of the home market for Deutsche Bank and indicated that it will be a top priority for him to get the bank more deeply anchored in the home market with solid finances.
Five years ago, the global banks became detached from their national roots.
That has changed now and the importance of home market is greater now than ever before, Jain said.
He admitted that Deutsche Bank also made some mistakes, which contributed to the global financial crisis in 2009.
"Our risks in relation to the available capital were too high. We deviated from the core business of our bank and it was a challenge to take risks," he said.
Jain said he will stick to his plan for a universal bank model, which is ideal for Deutsche Bank to build up and consolidate its market position.
This will allow the investment banking to tap the resources of the consumer banking, he said.