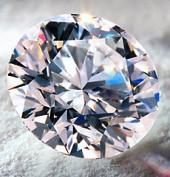 Less than one per cent of the world's diamonds are eligible to be inscribed with the 'Forevermark' brand icon and a unique identification number.
They are also crafted only by a select group of diamantaires; and are exclusively available in select jewellers.
At present, the Forevermark branded jewellery is available all over the world for 1.5-2 carat diamonds, with high net worth individuals as the target customers.
That's about to change -- in India. De Beers, the world's leading diamond company, is now taking this exclusive brand  to the world's largest consumer base -- India's middle class.
Come December, the Rs 35,000 crore (Rs 350 billion) Indian diamond jewellery market will see the entry of 'Forevermark' encrypted in 18-21 carat gold with a starting price of Rs 10,000-12,000.
That's  the battleground for almost all leading diamond brands such as Tanishq, Nakshatra, D'damas, Agni and Gili.
Yet, the starting price is competitive enough. Tanishq diamond jewellery, for example, is available at a price beginning Rs 9,999 and D'damas has fixed its starting price at Rs 15,000.
The starting price of Gili and Ashmi is at Rs 8000 and Rs 15,000 respectively. Nakshatra, catering to premium customers, is more expensive with a starting price of Rs 25,000.
De Beers is also getting the distribution act together for a volume-led sales growth. It has entered into marketing alliances with leading jewellers like Gitanjali Gems, the owner of brands like Nakshatra, D'damas, Gili and Ashmi.
The move makes sense as Gitanjali has over 2,500 sales point including 185 owned and 215 franchisee stores. But will that lead to cannibalisation?
Mehul Choksi, chairman of Gitanjali, dismisses the point. "We will be marketing Forevermark in India and it will complement our existing branded products. There is no question of competing with each other," Choksi says.
The company is looking for more production and marketing tie-ups in India.
"Promises differentiate Forevermark from others", Varda Shine, managing director of Diamond Trading Company, a marketing arm of De Beers, says.
But De Beers knows that it has to educate Indian customers about the virtues of Forevermark and hence has just launched a Rs 100-crore (Rs 1-billion) marketing blitzkrieg. 
"India is an expensive market to launch a brand. Therefore, we explored the market for a couple of years before implementing our India launch," says Rajeshree Naik, Head of Marketing, Forevermark Diamonds Pvt Ltd.
There are enough reasons for De Beers' keenness to get into the Indian market. The country is the world's No. 1 consumer of gold and has the largest population of young people who can aspire for diamond jewellery. Shine says India and China have been witnessing a double-digit growth in diamond consumption.
While India has shown a growth of 15 to 17 per cent, the number for China is 14 to 15 per cent.
That's the reason why competitors are not perturbed. Tanishq, for example, says entry of new players will strengthen the branded jewellery market.
"High-end customers are only a small segment of the overall jewellery market. The immense promotional spends by every new entrant will only strengthen the Indian market," V Govind Raj, GM (marketing), Tanishq, says.