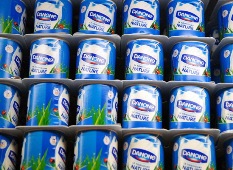 One year after setting up shop in India on its own, French diary firm Danone said on Friday its priority is to strengthen in the pockets where it currently operates rather than expanding across the country.

After exiting from Indian confectionery firm Britannia in 2009, Danone has been trying to make its presence in India over the last one year, primarily in the diary market, which is dominated by Amul, Mother Diary and Nestle.

"India is a new and young market for us. We believe that for India we have to adopt a specific strategy and have to be adapted locally.

"We are focused on strengthening our presence in the metros and understand consumers here," Danone Food & Beverages India managing
director Jochen Ebert told PTI.
The company is currently present in Mumbai, Pune, Hyderabad and Bangalore and will concentrate only in the four metros.
Apart from selling
dahi
and flavoured yoghurt, Danone also has a joint venture with Japanese firm Yakult in India marketing probiotic dairy products.
"Only in the metros, there is so much room for growth.
"The per-capita consumption in India of dairy products is at 0.5 kgs while in European countries the average is around 30 kg. . .so we see that as a big opportunity," Ebert said.
He said the Indian packaged yoghurt market is around one lakh tonne per annum.
"We are putting massive effort in understanding the consumers, how to strengthen our distribution, building infrastructure and brand," he said.