Besieged media baron Rupert Murdoch may have to face new challenges - not just in the UK but in the key Indian market as well.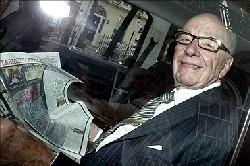 After eight years of joint operations in news television, the relationship between Rupert Murdoch-controlled STAR Group and Ananda Bazar Patrika (ABP) TV has run into rough weather.

ABP TV - a 100 per cent subsidiary of ABP Pvt Ltd - owns 74 per cent and STAR India the rest in Media Content & Communications Services India Pvt Ltd (MCCS), which broadcasts three popular 24-hour news channels - STAR News in Hindi, STAR Ananda in Bangla and STAR Majha in Marathi.

According to sources in the know, though the differences have been there for a while, they aggravated only recently. Editorial control, said sources, had been a point of stress for a while.

Now, several other operational and management issues had also cropped up, leading many to question the future of the venture, they said.

In fact, both STAR and ABP had offered to buy each other out of the venture, said a person following the developments closely.

He added both had also started looking for new partners. "Though preliminary, feelers have been sent to the prospective partners. Some foreign players have also been approached," said a person on condition of anonymity.

The differences came out in the open at a recent board meeting of MCCS in Mumbai, which many said was a clear indication of the fate of the JV.

Uday Shankar, CEO, Star India Private Limited, said, "It is a joint venture issue of a closely-held company. Hence, we would not like to comment."

Dipankar Das Purkayastha, managing director and chief executive officer, ABP Pvt Ltd, denied that there were cracks in the JV. "Nothing of that sort has happened," he said.

Sources close to STAR said differences over operational issues were not uncommon. This, they said, did not mean that STAR was approaching other companies to replace the ABP Group.

However, media industry watchers say some recent events have added to the strain. For example, even though the STAR-ABP
JV is for only news, ABP is independently launching a general entertainment channel, Sananda TV, to take on the popular STAR Jalsa in the Bangla general entertainment space. This has apparently not gone down well with STAR.
ABP, on its part, was not happy when STAR India entered into an ad sales alliance with rival NDTV for its three news channels.
Even though STAR says the alliance is restricted to sales and has nothing to do with editorial content, many say there is a conflict of interest.
STAR has a dedicated team to market NDTV channels, but both MCCS and NDTV have competing Hindi news channels - STAR News and NDTV India.
Ever since the NDTV-STAR deal has been announced, there has been speculation that this is a case of old partners joining hands to forge a bigger association that may even lead to an equity tie-up. This will mean a realignment of the MCCS-STAR JV.
Some said ABP was not kept entirely in the loop when talks between NDTV and STAR were getting crystallised. That time, ABP's Purkayastha had told Business Standard: "STAR has not spoken to us about any sales alliance with NDTV. So, I cannot comment about any conflict."
NDTV was earlier supplying the entire news content to Murdoch's STAR News in India. The two split in 2003, following which ABP's Sarkar brothers – Aveek and Arup - teamed up with STAR.
It was then said that Murdoch was keen to strengthen news operations in India and bring editorial content directly under STAR. But the foreign direct investment (FDI) limit of 26 per cent in news operations forced him to rope in a strategic partner.
However, it's not easy to split in a competitive and regulated sector such as news television. Also, both ABP and STAR have benefitted from this successful JV.
Usually, issues like brand name, manpower and the right of first refusal are intertwined in such break-us and become sensitive points.
Here too, said sources, parallel rapprochement efforts were on to avoid any largescale confrontation.
However, because of the FDI cap, STAR will have to get another domestic partner as a replacement in case it parts ways with the ABP Group.