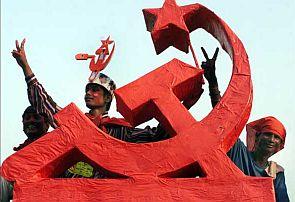 Around 300 Communist Party of India-Marxist workers, including a party member of Legislative Assembly, were arrested in Chennai for staging a rail-blockade protesting the recent hike in fuel prices.

According to police, CPI-M legislator K Bhimrao and other party supporters were arrested
from Guindy railway station in Chennai.
The workers squatted on rail tracks and raised slogans against the recent revision in fuel prices.
However, rail services were not affected, police said.
Petrol price was on August 31 hiked by Rs 2.35 per litre and diesel by 50 paise even as an increase in rates of subsidised liquefied petroleum gas is likely next month in the bakcdrop of the falling rupee.